Exclusive
Arrival of UAE Aid Plane to Chad in Support of Sudanese Refugees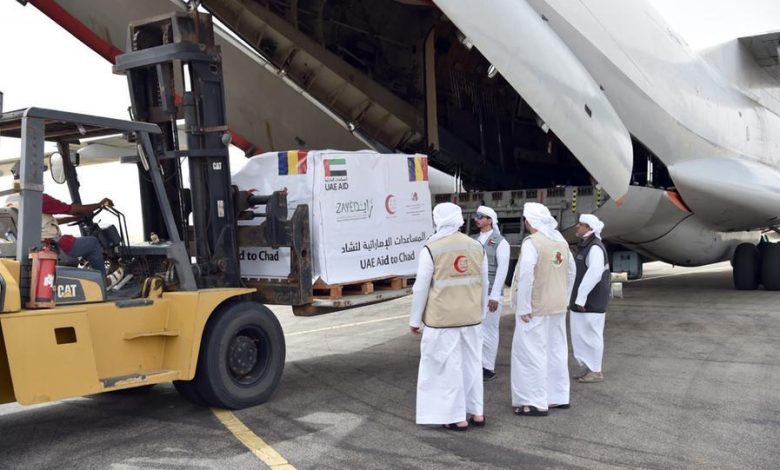 ---
An Emirati aid plane carrying food parcels arrived in Am Djarass city on Sunday to support Sudanese refugees and the local community in Chad.
According to the UAE news agency (WAM), the plane carried food parcels from the UAE Red Crescent Authority, Zayed bin Sultan Al Nahyan Charitable and Humanitarian Foundation, and Khalifa bin Zayed Al Nahyan Foundation for Humanitarian Works.
Representatives from UAE humanitarian entities were present to receive the aid plane in coordination with the Ministry of Foreign Affairs. Dr. Ahmed Obaid Al Dhaeeri, head of the UAE Red Crescent delegation in Chad, stated that the current team in Amdjarass is providing this aid to Sudanese refugees and the local community in Chad, in line with the wise leadership's directives to extend a helping hand to those in need.
Al Dhaeeri added that the charity team present in Amdjarass is assessing the food and humanitarian needs of the Sudanese refugees to provide the necessary support and alleviate their suffering due to the current conditions in their country.
The UAE continues to provide all forms of support to Sudanese refugees and fulfill their basic needs, embodying its leading role in charitable and humanitarian work.
In another context, Omar Sultan Al Olama, Minister of State for Artificial Intelligence, Digital Economy, and Remote Work Applications, affirmed that the UAE adopts transformative potentials of artificial intelligence to shape the future of the economy, enhance entrepreneurship, and create new opportunities contributing to driving development, progress, and sustainable growth for a better future for the coming generations.
Al Olama stated that transformative artificial intelligence is one of the most important elements of the country's digital transformation journey and a fundamental factor in achieving a qualitative leap in industries and empowering companies with unprecedented capabilities.
During the visit, Al Olama was briefed by the agency's officials on the "Cybersecurity Innovation Lab," designed to enable and facilitate the agency's digital transformation by conducting research and testing on cybersecurity controls, exploring its horizons, enhancing its innovations and designs, and employing it in the agency's environment.
The lab aims to save time and costs and increase investment returns in the field of information security and cybersecurity.
During the meeting, an explanation was also given about the "Awareness Center for Cybersecurity," which provides a virtual environment for comprehensive technical training and tests using scenarios and tools to simulate cyber-attacks and defensive mechanisms that improve the agency's employees' skills in various aspects of cybersecurity and enhance their awareness through virtual experiments designed to enhance national skills in cybersecurity.