Middle east
Campgrounds in Northeast Syria: The Most Haphazard Amidst Food Crisis
Campgrounds in Northeast Syria remain the most haphazard amidst the suffering of the food crisis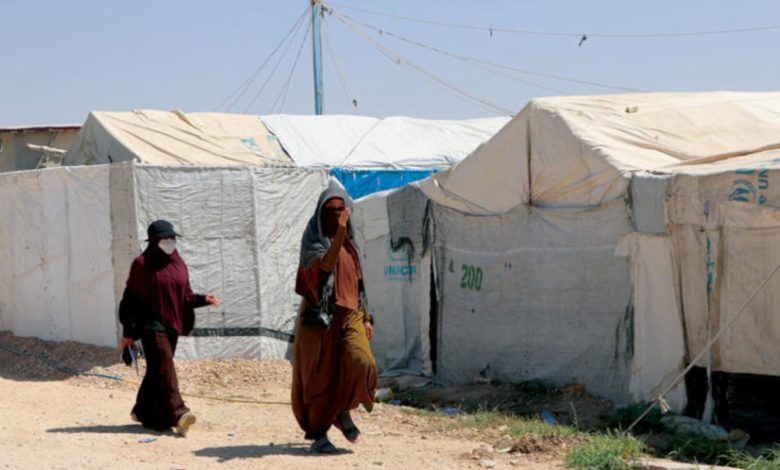 ---
In the midst of the Syrian crisis, with no water, no services, and a chaotic life, one in the camps of Eastern Syria is suffering the worst conditions that could force them to live in dire circumstances.
Amidst the ongoing Syrian crisis, these Syrian camps face a clear shortage of essential services, especially the haphazard camps in the areas under the control of the Kurdish central administration in the provinces of Racca and Hasakah in Northeast Syria. These camps shelter citizens who have fled from various areas due to the battles between different factions of the ongoing Syrian conflict since 2011.
Without Water or Food
As temperatures rise in the entire Arab region, the days in the camps have turned into a hellish experience, amidst suffocating heat. This is the situation for tens of thousands of displaced people in forgotten haphazard camps. Everyone is suffering from a shortage of water due to the rising temperatures, which could severely affect citizens and expose them to diseases like dehydration. Children are frequently falling ill, suffering from diarrhea and vomiting.
In the Greek camp, most camp dwellers live on the banks of the Euphrates River on the outskirts of Racca city. There, the voices of children running among tattered tents under scorching sunlight can be heard. Women carry water in containers from a faucet in the camp courtyard. Meanwhile, a child washes dishes near a water tank, feeble.
Lack of Assistance
The camps are in a state of constant crisis due to limited assistance. Many organizations do not recognize these camps. Camp residents are entirely forgotten, according to a report by AFP. There are no cleaning materials, and the worn-out tents allow sunlight to enter.
The camps of displaced people have been increasing gradually due to the relentless battles in the country, expanding from one area to another. In the northwestern areas outside the regime's control, more than 1,000 official and haphazard camps for displaced people have emerged, primarily relying on the assistance of international organizations that cross borders.
In the Suhaila Al-Banat camp on the northeastern outskirts of Racca city, there is a pile of plastic and metal typically sold to scrap cars that roam the nearby camp next to a garbage dump. The majority of camp residents depend on income from searching through garbage for materials that can be sold.
Forgotten Camps
Tania Evans from the International Relief Organization states that the haphazard camps in the northeast can be considered "forgotten". She emphasizes the need to increase attention, funding, and sustainable efforts from the international community towards these camps.
The number of camps has reached 1,633, housing more than 1.8 million displaced people, including 311,000 Syrians living in haphazard camps that do not receive any UN assistance.