Middle east
How long of bombing and death?" Palestinians are "Lost" in the streets of Gaza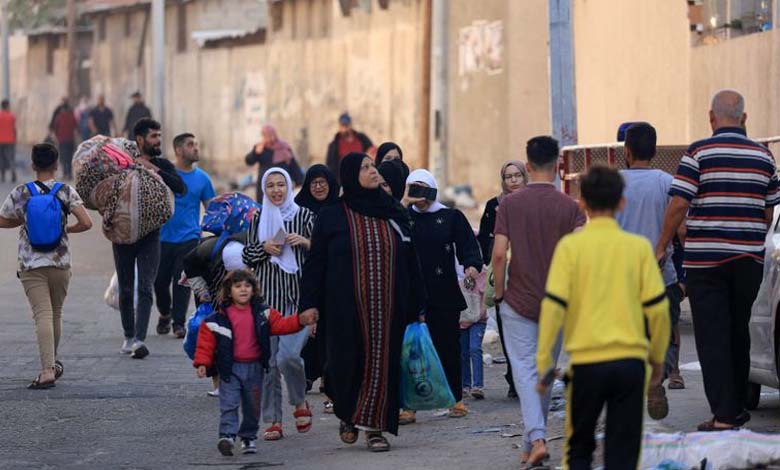 ---
They traverse distances in cars or on foot, seeking shelter from the flames falling from the sky, spreading through the streets. But where to?
In the streets of Gaza City, hundreds of Palestinians took to the streets on Friday, carrying some belongings, attempting to escape towards the southern part of the strip. Most of them, however, said they didn't know where to turn.
A state of panic and terror has gripped the residents of the Gaza Strip after Israel ordered the evacuation and displacement of residents of Gaza City and its north, a move rejected by Hamas. The United Nations has warned that this action affects 1.1 million people and will have "devastating" consequences. This comes as the war between Tel Aviv and the movement enters its seventh day, with an increasing possibility of a ground invasion of the besieged strip.
Where to? 
Some residents of the Gaza Strip told the French Press Agency (AFP) that they will stay where they are, as they have nowhere else to go.
With visible fear, a woman who identified herself as Um Hossam (29 years old) with tears covering her face, accompanied by four children, said, "How long will the bombing and death continue? We have no homes left. Every area in Gaza is under threat. We demand the Arabs to protect us. Enough is enough."
She explained that she had sought refuge at the home of relatives in the northern part of the strip in the Nasr area for three days, after the area she was in was bombed in the Farouz area, northwest of Gaza City. "They told me that the house has been completely destroyed."
Israeli planes dropped thousands of leaflets over Gaza City, urging residents in Arabic to evacuate south.
A week ago, fighters from Hamas infiltrated Israel by land, sea, and air, launching a surprise attack on Israeli territory in which more than 1,200 people were killed on the streets and in their homes, as well as at a music festival.
This has been accompanied by the firing of thousands of rockets towards Israel, which has responded with heavy shelling of the Gaza Strip, resulting in nearly 1,500 casualties.
On Friday, Hamas, which controls the Gaza Strip, refused to evacuate the northern part of the strip, stating that they are "steadfast on our land, in our homes, and in our cities…we will not displace or deport."
However, some residents left their homes with their children, carrying some belongings in plastic bags and luggage, and went out into the streets. A boy was seen carrying his pillow and walking alongside adults.
According to AFP correspondents, many preferred to stay in the northern part of the strip, as there were no vehicles or taxis to transport people to the south, and they had nowhere to go.
A man named Abu Azam said, "This is a brutal enemy, and what it wants is to terrify people and displace them. But, God willing, we will remain steadfast in the event of any displacement."
Mohammed Khaled (43 years old) said he is staying. "What does the world want from us? I am a refugee in Gaza, and they want to displace me again? What will we do in Rafah (south)? We will sleep in the streets with our children, we will not do that. I don't want this humiliating life."
Nowhere to go
Calls have been reiterated to open humanitarian corridors before a possible Israeli ground invasion.
Yesterday, Egyptian President Abdel Fattah al-Sisi stressed the importance of Gaza's residents "remaining steadfast on their land," warning that the displacement of Gaza's residents may mean the "end of the Palestinian cause."
In the Beach Camp in the west of Gaza City, Mohammed Abu Ali (24 years old) stood in front of a UN Relief and Works Agency (UNRWA) facility and said, "Today, we don't know where to go. There's no safe place. We've resorted to UNRWA, to the United Nations. Today, Israel is committing massacres against civilians, and our children are now under the rubble."
He added, "We don't know where our children are. We don't know what to do. We don't have food or water. I am appealing to the United Nations in front of the UN headquarters: where do we go?"