Exclusive
Microsoft and G42 Launch AI-Powered Local Cloud Services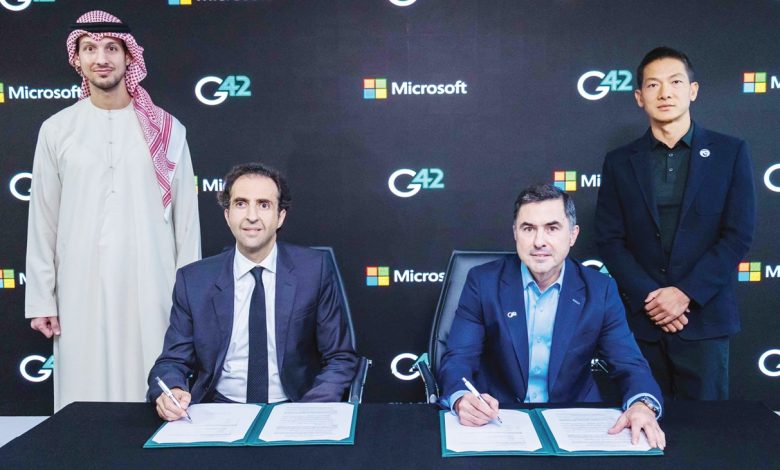 ---
Microsoft is expanding its partnership with G42 in Abu Dhabi, with the aim of developing artificial intelligence (AI) technology across various sectors and providing cloud infrastructure in the United Arab Emirates.
This agreement reflects the two companies' efforts to integrate AI technologies with cloud computing to deliver advanced solutions to companies. and organizations in various industries. By providing cloud infrastructure, businesses can access. computing and storage resources online easily and efficiently.
This partnership is part of the United Arab Emirates' aspiration to enhance the use of AI and advanced technology applications in various sectors of the economy. including education, healthcare, industry. and financial services. with the goal of promoting economic development and increasing innovation in the country.
The two companies stated that this move will enable the public sector in the United Arab Emirates .and other industries to access the cloud. and AI capabilities on Microsoft's Azure platform. It will also assist them in complying with local privacy and regulatory requirements.
Peng Xiao, CEO of G42, mentioned that this step will help G42 achieve technological advancements across key sectors. The company has a wide range of businesses. including AIQ, a joint project with Abu Dhabi National Oil Company (Adnoc) .that uses AI and machine learning to improve operations for Adnoc .and the broader industry.
The G42 Group. led by National Security Advisor Sheikh Tahnoon bin Zayed Al Nahyan, is at the forefront of Abu Dhabi's efforts in artificial intelligence. They recently partnered with Cerebras Systems Inc. to build the first nine giant AI-powered. computers as an alternative to systems using Nvidia Corp technology. Last month, the companies unveiled what they called "the world's highest-quality large-scale Arabic language model."
The company's units, based in Abu Dhabi. cover everything from cloud computing to self-driving cars. Last year. they established the $10 billion 42XFund. to invest in tech companies across emerging markets. Over time. the companies aim to deliver industry-specific AI solutions to significant projects, including COP28. the climate summit scheduled to be held in Dubai later this year.
The partnership will witness Microsoft's . expansion of its Azure service in the United Arab Emirates through "Data Centers". This is a joint venture between G42 and Etisalat. Judson Althoff, Executive Vice President of Microsoft's Commercial Business/ said. "With data privacy, security, and compliance as our core priorities. we have a unique opportunity to help organizations innovate responsibly."