Policy
The crises have worsened in Sudan
The Crisis Deepens in Sudan... Will Khartoum Reach a Point of No Return?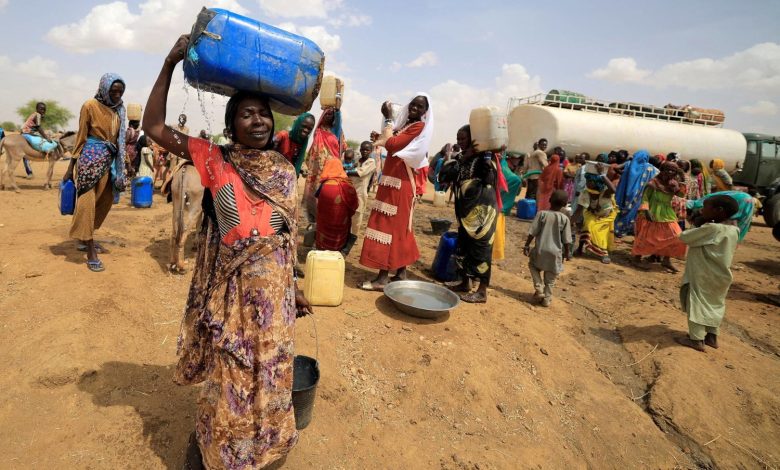 ---
Multiple difficult crises cast their shadow as the war in Sudan enters its fourth month. Farmers in several Sudanese states fear that the conflict between the army and the Rapid Support Forces will jeopardize the production of essential crops this year, exacerbating the crisis of hunger and poverty in the country beyond the expectations of the United Nations.
Famine in Sudan
More than 10 individuals, including farmers, experts, and relief workers, have reported delays in cultivating crops such as maize and tobacco due to reasons such as a shortage of bank financing and the rising prices of key inputs like fertilizers, seeds, and fuel.
A report by the "Royaume" network revealed that food imports and basic commodities have been adversely affected by the war and financial collapse. The fighting, looting, and bureaucratic restrictions have hindered the arrival of external aid, and relief agencies have accused both warring sides of impeding the delivery of assistance, including food. The deteriorating conditions for farmers loom a hunger crisis that may be more severe than anticipated by the United Nations and humanitarian workers.
Economic Crises
United Nations estimates indicate that the number of food-insecure individuals in Sudan will rise to 19.1 million by August, up from 16.2 million before the conflict began in April. The shortage of essential food items, exacerbated by the looting of warehouses in Khartoum and other cities, intensifies the deepening hunger crisis that has been worsening for years. This also limits livelihood opportunities, depriving Sudan of the necessary foreign currency for importing essential goods. According to central bank figures, high-value cash crops such as sesame and groundnuts contributed around $1.6 billion to export revenues in 2022.
The United Nations Food and Agriculture Organization (FAO) indicates that nearly 65% of Sudan's population, approximately 45 million people, are connected to the agricultural sector for their livelihoods.
Challenging Economic Situations
Sudanese analyst Mohamed Altayeb states that the economic conditions in Sudan are extremely challenging, especially with banks being subjected to looting, forcing them to curtail their activities amidst the clashes between the Sudanese army and the Rapid Support Forces in Khartoum and other regions such as Darfur and Kordofan. Moreover, supply chains centered in the capital have been significantly disrupted, and some warehouses containing essential inputs like fertilizers, seeds, and pesticides have been looted, further impacting the dire situation in the country's food sector.
The Sudanese analyst added that as part of the major economic crisis, nearly all factories are almost at a standstill, if not completely destroyed, which indicates that problems are likely to worsen.