Maghreb
The Libyan Scene is Turbulent… What Comes after the Clashes in Tripoli?
Clashes continue to escalate in Tripoli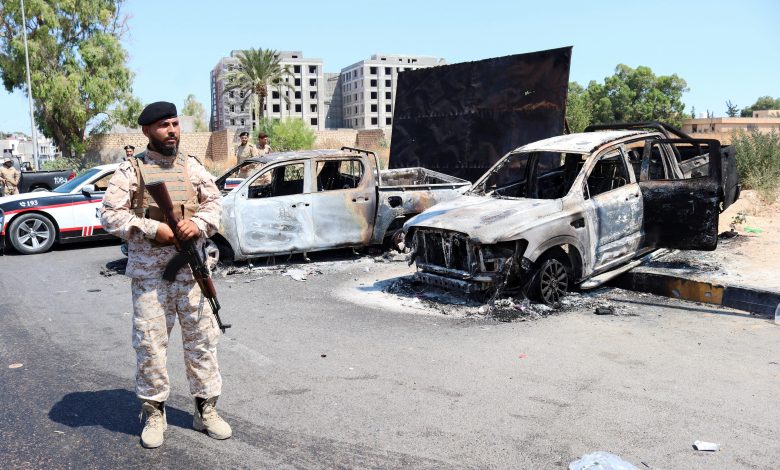 ---
The situation remains extremely turbulent in Libya, amidst clashes between armed formations in the capital city of Tripoli that occurred on the past Monday and Tuesday. The Emergency and Support Medical Center in the Libyan capital, Tripoli, announced that the toll from the clashes witnessed in the southern areas of the capital has risen to 55 dead and over 130 injured. This is in addition to the significant material losses that affected public institutions and private properties, accompanied by international calls for an immediate ceasefire.
Dr. Mohammed Al-Zubaidi, a Libyan political analyst, revealed the scenarios for the upcoming period, especially following the clashes in Tripoli. He mentioned that there are no expected scenarios other than the continuation of confrontations between militias, ongoing killings, and injuries, as long as these armed militias remain quasi-independent entities where their leaders alone make the decisions for wars. These decisions are either carried out as direct orders from foreign powers or in response to foreign intrigues crafted with cunning, leading to their escalation.
He added that the beneficiaries of igniting the current situation, or during these days, are Washington and London. They consider that holding elections does not ensure the creation of a political system under their control but rather constitutes a direct strategic threat to their interests, not only in Libya but across the entire African continent, especially since Russia views Libya as the origin and foundation for implementing its policies across the African continent.
He pointed out that what is happening in Tripoli is being orchestrated by the illegitimate government, under the guidance of Western countries. These countries aim to prolong the crisis and political chaos in Libya on one hand and, on the other hand, seek to send their forces to the country to establish their control over the entire Libyan territory. This is particularly relevant after Western nations began losing their influence in sub-Saharan African countries, with their latest setback being in Niger.