Arabian Gulf
UAE invites al-Assad to attend COP28 climate summit… Details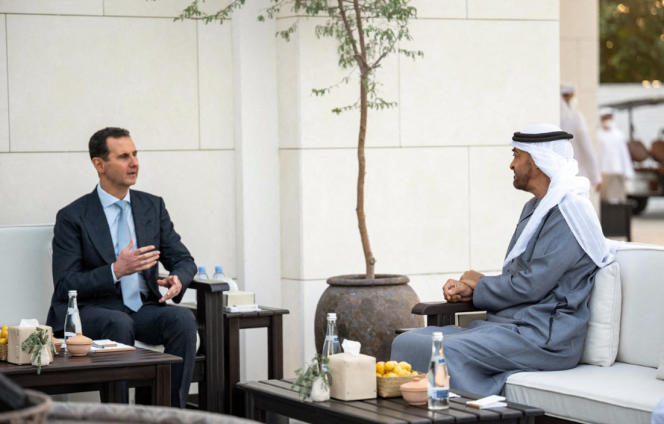 ---
The United Arab Emirates has invited Syrian President Bashar al-Assad to attend the COP28 Climate Summit, which will be held on November 30th in Dubai.
The UAE embassy in Damascus said in a tweet on Sunday that al-Assad had been invited by UAE President Sheikh Mohamed bin Zayed Al Nahyan to attend COP28.
The official Syrian News Agency (SANA) reported yesterday that "al-Assad received on Sunday the Charge d'Affaires of the Emirates Embassy in Damascus, Abdul Hakim Al-Nuaimi, who handed him "an official invitation from the President of the United Arab Emirates, Sheikh Mohamed bin Zayed Al Nahyan, to attend the Conference of the Parties on Climate" to be held next November and December.
Last March, al-Assad visited the UAE in response to an official invitation for the first time since the outbreak of the Syrian civil war in 2011. This was also his first visit to an Arab country since 2011.
"Following the outbreak of the conflict in Syria, several Arab countries, led by Gulf states, severed diplomatic relations with Damascus and expelled it from the Arab League in 2011."
"But the UAE was the first Arab country to resume relations with Damascus after a break, reopening its embassy there in 2018."
"The UAE's approach and its efforts towards Syria are part of a deeper vision and a broader approach," said UAE presidential diplomatic advisor Anwar Gargash at the time. "Their goal is to strengthen Arab and regional stability and overcome difficult years of confrontation.
"The UAE's positions have always been rational and moral, and its role in the Middle East is positive and effective to ensure strong relations among Arab countries," Assad said in a statement at the time.
"The UAE has also led regional relief efforts in Syria, following a devastating earthquake in February and neighboring Turkey."
The earthquake prompted a resumption of relations between Damascus and its Arab neighbors, and several Arab leaders called al-Assad to express their solidarity, as Arab aid poured into Syria.
Saudi Arabia resumed relations with Damascus last month, and a few weeks later the Arab League decided to resume the participation of Syrian government delegations in its meetings.
Al-Assad also received an official invitation from Saudi Arabia to participate in the Arab League summit in Jeddah this week – his first such invitation since the outbreak of the conflict. His possible participation is expected to represent a quantum leap in efforts to break Syria's isolation.