Exclusive
60,000 Relief Packages – the Outcome of 'Compassion for Gaza' Campaign since its launch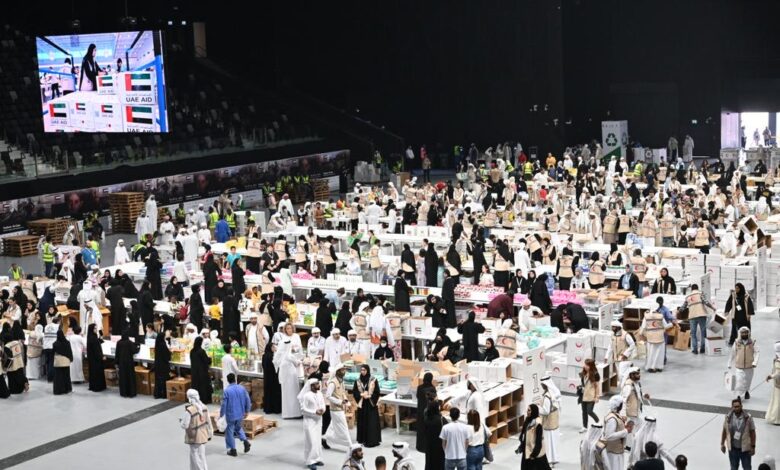 ---
Rashid Al Mansoori, the Deputy Secretary-General for Local Affairs at the UAE Red Crescent Authority, revealed that the 'Compassion for Gaza' campaign has generated 60,000 relief packages since its launch three weeks ago, with the participation of over 17,800 volunteers from across the country.
Al Mansoori further stated that 40 tons of Emirati aid have reached the people in Gaza. These supplies were shipped from Abu Dhabi Airport to El-Arish Airport and then entered Gaza in collaboration with the Egyptian authorities and the World Food Programme.
The Deputy Secretary-General for Local Affairs at the UAE Red Crescent Authority explained that, in line with the request from the medical team that entered Gaza, the campaign aims to focus on providing urgent medications and medical supplies to be sent to Gaza. He emphasized that the continued enthusiastic support from volunteers and donors encourages the ongoing nature of the 'Compassion for Gaza' campaign indefinitely.
He added, "Currently, in the third week of the 'Compassion for Gaza' campaign, which was launched to alleviate the suffering of the youth, women, children, and the elderly in Gaza, the turnout from volunteers and well-wishers remains extremely high".
He also stated, "We have witnessed cooperation from all humanitarian and charitable institutions in the UAE, in addition to support from benefactors to back this campaign, following the leadership of the UAE, with His Highness Sheikh Mohamed bin Zayed Al Nahyan, the President of the State, and his brother, His Highness Sheikh Mohammed bin Rashid Al Maktoum, the Vice President of the State, the Prime Minister, and the Ruler of Dubai, may God protect them".
In conclusion, he noted, "We have seen a significant turnout from our brothers, sisters, and our volunteer youth. They come with their families to support the campaign, driven by a spirit of giving and goodness, which indicates that the people of the UAE have inherited goodness from the late founding father, Sheikh Zayed bin Sultan Al Nahyan, may God rest his soul, who instilled the values of charity and assistance to those in need in various parts of the world facing disasters".