Exclusive
A New Phase of the Strategic Partnership: "G42" and Microsoft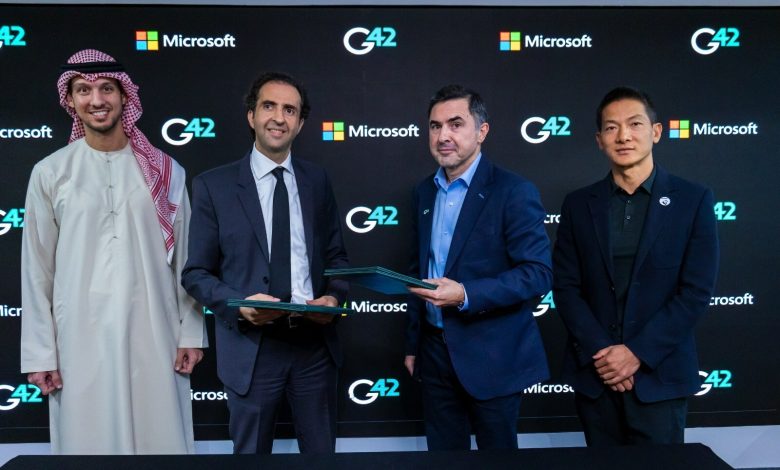 ---
The "G42" Group and Microsoft have entered a new phase of their strategic partnership. The two companies have presented an ambitious plan aimed at providing local cloud services, supporting innovation, and investing in advanced artificial intelligence (AI) technologies, as well as enhancing and expanding data center infrastructure in the United Arab Emirates (UAE).
The sovereign cloud services offered by Microsoft to the UAE's government sector and regulated industries will play a vital role in securing sensitive data. These services will allow both sectors to benefit from the latest cloud technology and AI features available on the Azure platform, while facilitating compliance with local privacy standards. This means they will be able to securely and efficiently store and process their data, in accordance with privacy and security regulations.
The two companies seek to combine their expertise and capabilities to develop cutting-edge industry solutions that rely on artificial intelligence in fields such as healthcare, life sciences, energy, sustainability, and national projects. They will also participate this year in the "COP 28" climate change conference scheduled to be held in the UAE.
The "G42" Group and Microsoft intend to set new standards for cloud computing security and innovations in the government sector. Both companies aim to expand their technological ecosystem by offering new services within the UAE and providing greater market entry opportunities for partners.
As part of this partnership, Microsoft will expand its Azure cloud-related services in the UAE through "Data Centers," a joint venture between G42 and Etisalat.
Dr. Mohammed Al Kuwaiti, Director-General of the National Digital Center under the Supreme Council for National Security and Chief Cybersecurity Officer in the UAE, expressed his deep appreciation for the cooperation between Microsoft and the G42 Group. He emphasized that this partnership would support the development of a sustainable and secure digital environment. It will enable the government sector and regulated industries to achieve outstanding performance and make services provided to citizens more effective and convenient. Moreover, innovation will advance without compromising data security or violating privacy.
Peng Xiao, CEO of the G42 Group, described the joint sovereign cloud and AI services with Microsoft as a journey toward a bright future in the fields of innovation and technology. He stressed that the partnership with Microsoft is not just a collaboration in technology but represents a strategic plan to develop a dynamic technological environment that promotes innovation and community growth.
Judson Althoff, Executive Vice President and Chief Commercial Officer at Microsoft, stated that global organizations are increasingly adopting advanced AI technology to find innovative solutions to business, societal, and sustainability challenges. He said, "The partnership between the G42 Group and Microsoft aims to provide the government sector with the latest AI solutions using our trusted and integrated cloud platform. Given that data privacy and security are among our top priorities, we see a significant opportunity to support organizations in the UAE in innovating in a way that respects people's interests."
Samer Abu-Ltaif, Corporate Vice President at Microsoft and President of Microsoft in the Middle East and Africa, described how the UAE has excelled and led the way among nations embracing modern technologies. This has created a conducive climate for delivering leading technological solutions. He explained that this has provided institutions in various sectors with opportunities to develop their digital solutions and achieve greater efficiency and flexibility.
He added, "As we strengthen our collaboration with the G42 Group, we aim to support the vision of the UAE in empowering individuals and institutions to create AI solutions that contribute not only to economic growth but also to addressing the current challenges facing our societies."
This announcement marks the first outcome of the partnership between the G42 Group and Microsoft, which was announced in April 2023. Both companies are looking forward to expanding their collaboration in the coming months.