Maghreb
A report declared that armed men kidnaped six, injured others during the protests in Libya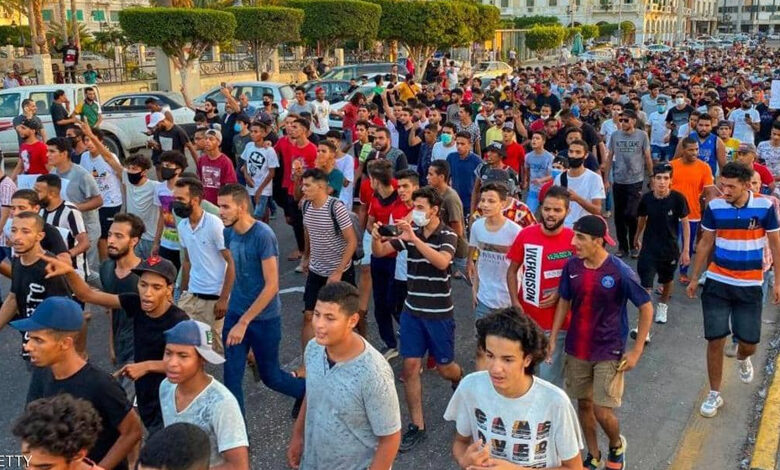 ---
Amnesty International reported on Wednesday that almost six peaceful protesters were seized and others were injured in the capital of Libya after that armed men used live fire to separate a demonstration.
In the same context, the rights group declared in a statement: At least six peaceful protesters were abducted and several others were wounded after armed men fired live ammunition including from heavy machine-guns to disperse a demonstration in Tripoli on Sunday.
Indeed, the manifestation was one of many organized actually in Libya, including others in Misrata and al-Zawiya on weak public services and living conditions.
Amnesty reported that the assault happened in an area controlled by a militia aligned to Tripoli's UN-recognized Government of National Accord (GNA) and that the testimonials provided strong indications that the militia was responsible for this act.
Amnesty also declared, indicating video proof, photos and witnesses that the attack was carried out by unidentified armed men wearing military-style camouflage clothes (who) opened fire. While observers reported that no warning was given before the live rounds were fired.
Moreover, the rights group announced: Videos also show assailants using a heavy machine-gun mounted on a pick-up truck to fire live rounds into the air to disperse the protesters.
The GNA's Interior Minister, Fathi Bashagha, had appealed those responsible for the violence of Sunday outlaws who infiltrated the security forces, whereas, the UN mission in Libya, UNSMIL, had called on Monday for an immediate and thorough investigation into the excessive use of force by pro-GNA security personnel.
In fact, GNA leader Fayez al-Sarraj was directing a security meeting on the clashes in the capital to determine all aspects of the situation and to guarantee the security of citizens, in what his administration announced on its Facebook page on Wednesday. Other protests organized in the capital on Monday and Tuesday, but the GNA established a four-day lockdown on Wednesday starting from 6:00 pm local time to prevent a fourth continuous day of protests.
Furthermore, Sarraj supported on Monday Libyans legitimate right to protest and declared a cabinet reshuffle in an attempt to satisfy protesters; however, he also declared that they had failed to secure necessary approvals.
Amnesty also said that there was no proof to support GNA claims that armed infiltrators had been present at the protests.
It should be noted that Libya has suffered approximately a decade of violent chaos since the 2011 revolution backed by NATO that overthrew veteran dictator Muammar Gaddafi and killed him.
The principal military fault-line of the country is between forces that support the GNA and eastern strongman Khalifa Haftar, who manages a competitive administration. This country also suffered from water deficits and power blackouts that snuff out air-conditioners in this summer heat.
Besides, the situation has been complicated by the novel coronavirus pandemic, which has reduced global oil prices and expanded in the hydrocarbon-rich country although social distancing measures.
Days after that the warring rival administrations of the country declared separately that they would stop all hostilities and hold nationwide elections, the protests took place.