Exclusive
Abu Aqilah Kekel, Commander of Sudan's Shield Forces, Announces His Joining with His Forces and Equipment to the Rapid Support Forces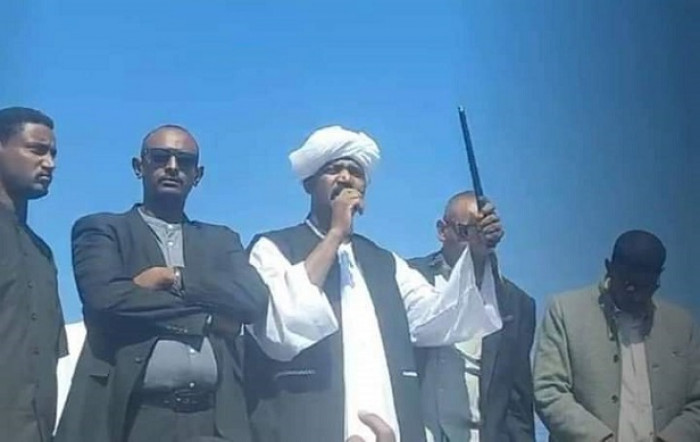 ---
The "Sudan's Shield" forces led by Major General Abu Aqilah Mohammed Ahmed Kekel have announced their full participation, along with their equipment, in the Rapid Support Forces (RSF) in the ongoing conflict against the military since April.
According to a video released by the Rapid Support Forces on the "X" platform, previously known as "Twitter," Kekel stated that his forces have joined the RSF ranks to combat what he referred to as "remnants" and to champion the country's issues and marginalized people.
Kekel denied allegations of violations committed by soldiers from the RSF, accusing supporters of the "former regime" and its entities of trying to tarnish the reputation of those forces.
He also announced "the arrest of a large number of individuals from the former regime impersonating as RSF members, involved in violations and crimes while wearing RSF uniforms."
Kekel pointed out that the "Sudan's Shield" forces have pledged allegiance to the commander of the RSF, First Lieutenant General Mohammed Hamdan Dagalo.
ترحب قوات الدعم السريع، بانضمام القائد أبو عاقلة كيكل بكامل قواته وعتاده إلى صفوف الدعم السريع.

إننا إذ نرحب بانضمام القائد أبو عاقلة كيكل والأشاوس الأبطال في قوات درع السودان لقوات الدعم السريع؛ نؤكد أن هذه الخطوة تشكل إضافة عسكرية نوعية مهمة في هذا التوقيت الحاسم.

إن بلادنا… pic.twitter.com/lLBQnjKB55

— Rapid Support Forces – قوات الدعم السريع (@RSFSudan) August 7, 2023
In response, the RSF welcomed Abu Aqilah Kekel's full joining, along with his forces and equipment, into their ranks, considering the move a significant military addition at the current juncture.
It's worth noting that Abu Aqilah Mohammed Ahmed Kekel is a retired officer from the armed forces hailing from the Sahl Al-Batana region in central Sudan. He emerged as an activist and a member of the executive office of the Al-Batana Free Forum, a popular entity concerned with public affairs in the region. He has become a prominent figure in the gatherings organized by the forum.
Kekel adopts a discourse that uses marginalization as a main premise to express the demands of the people of the al-Batana region.