Society
After 150 Years of Excavation… Discovery of a Stone Age Village in France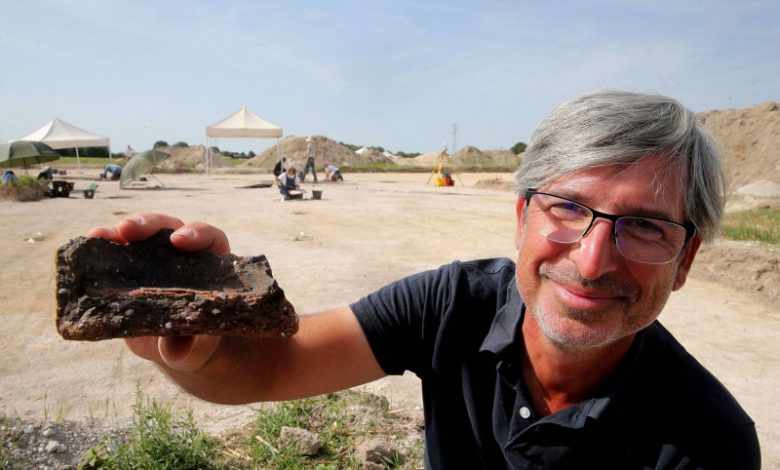 ---
This summer, the remains of permanent dwellings from the Stone Age were uncovered at the archaeological site of the Stone Age in the Saint-Gond marshes region in northeastern France. These findings provide an exceptional insight into the level of social organization during that period of history, 150 years after the discovery of the first stone tools at the archaeological site.
Rémi Martino, a researcher at the National Center for Scientific Research (CNRS), who identified the village site with his team, explained, "It's the final piece of the puzzle that we were missing," according to what was reported by Agence France-Presse (AFP).
Archaeologists in the Saint-Gond marshes region have so far identified 15 large flint mines spread over an area of 450 hectares, as well as 135 underground mass graves.
Since the discovery of the first flint tools a century and a half ago, researchers have found 5 examples of large rock burial sites and 10 stone blocks used for polishing axes, as well as fields that were cultivated by burning the land.
An archaeologist stated that this discovery represents an important milestone for understanding "the economic, social, and geographical organization of the Stone Age," noting that there is "no equivalent" to this integrated group in Europe.
This archaeological village dating back to the Neolithic period (between 3500 and 3000 BCE) was discovered in the middle of the summer when a pit was found for the construction of a wall dating back to that period, located about 10 kilometers to the south. The wall enclosed a hill, creating an area estimated to be currently about one hectare, based on recent estimates in the area currently used for agriculture.
Afterward, the first building in the shape of a dome was uncovered inside the wall, along with a large refuse pit with a diameter of 20 meters, as well as external wells.
The inhabitants of the village were farmers and livestock breeders who settled near a water source above a layer of groundwater.
Martino explained, "The site was organized according to a complete structure, and we find the foundations of our society in it."
These successive discoveries were made within the context of a research program initiated by the National Center for Scientific Research 20 years ago.
A total of 50 individuals participated in the recent campaign, including researchers from various sectors in France and abroad, assisted by 20 "diggers," most of whom are archaeology students.