Society
Deaths and injuries in building collapse in Port Said, Egypt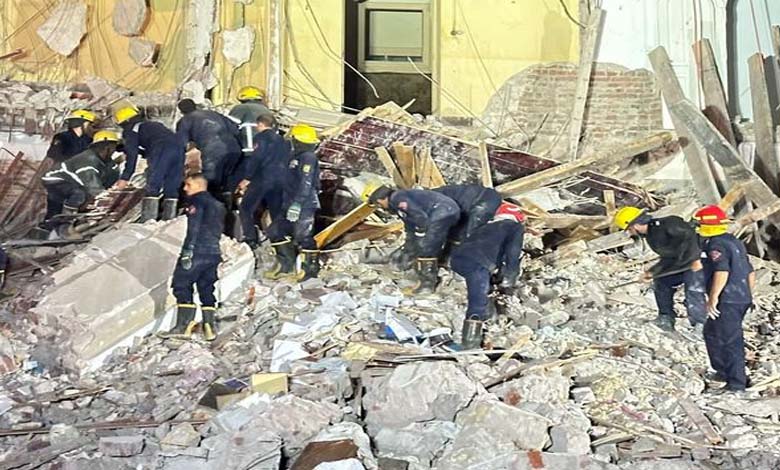 ---
Two people died, and two others were injured in a building collapse in the province of Port Said, northeast Egypt, on Sunday evening, coinciding with a wave of bad weather affecting the country.
The building is located in the Bazaar area within the East Port Said district, specifically next to "Saint Mary" school. Divine intervention prevented the collapse from causing hundreds of casualties as the area experiences congestion due to school students.
Civil defense forces rushed to the scene, and security forces cordoned off the collapsed building, initiating a search for victims beneath the rubble. The efforts of the civil defense forces resulted in the recovery of the bodies of the two young men, Eid Hamad Eltouny Shhata (26 years old) and Yassin Abdelhamid Yassin (21 years old). Their bodies were transported to the morgue of Nasr Hospital, and they are now under the jurisdiction of the public prosecutor.
The injured, Mohammed Abdelhamid (40 years old) with a fracture in the right arm, and Suleiman Hasabu El-Sayed (40 years old) with a brain bleed, were also transported to the Salam Hospital in Port Said.
The public prosecutor inspected the accident site, heard eyewitnesses' accounts of the incident, and the executive and security authorities in the province of Port Said continued their efforts to search for victims under the collapsed building.
According to eyewitnesses, there was ongoing renovation inside the building, but it collapsed suddenly on workers and residents. It is suspected that there may be two families under the rubble.
Eyewitnesses mentioned that the building has five floors, with families residing in it. The ambulance, with the help of locals, managed to extract the building's guard and his family, who were then transported to the hospital for medical treatment.