Middle east
Erdogan's visit to Iraq affects the strained relationship between the two nations
What is the impact of Erdogan's visit to Iraq on the tense relationship between the two countries?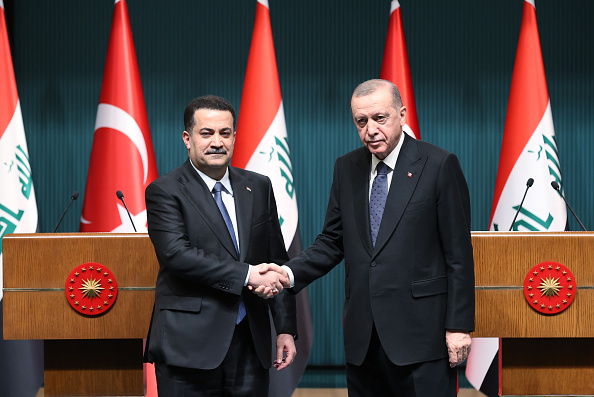 ---
The visit comes amid crises in Iraq, including a water crisis resulting from dams and climate changes that have led to the drying up of the Tigris and Euphrates rivers and the lakes, along with an increase in salinity that is killing fish and livestock.
During the upcoming period, Turkish President Recep Tayyip Erdogan begins his visit to Iraq, which is expected to last for one day and marks his first visit to the country in years. Erdogan seeks to extend his economic influence within Iraq, which is suffering from agricultural devastation due to the water shortage.
The "water" issue tops the agenda for Iraqis awaiting resolution during Erdogan's anticipated visit. He will hold discussions with Iraqi Prime Minister Mohammed Shia' Al-Sudani, including linking the Grand Faw Port to Turkey and Europe.
The Turkish President will discuss several important files, including oil in exchange for water and facilitating the entry of Turkish investment companies, as an attempt to rescue his country from the economic crisis.
Both countries aim to enhance their economic and trade relations, as well as the level of partnership and economic integration, by activating joint committees to follow up on the implementation of memoranda of understanding and bilateral agreements between the neighboring nations.
The Development Road Project is also scheduled for discussion, which will rely on Turkey for access to Europe, facilitating the export of oil, gas, and global energy projects, with a focus on security and combating the Kurdistan Workers' Party (PKK).
Additionally, the issue of the International Court's ruling in favor of Iraq, fining Turkey around one and a half billion dollars for exporting oil from Kurdistan without the approval of the Iraqi government, will be on the table. Turkey is willing to drop the case to allow for the reopening of the Ceyhan pipeline for oil export.
The regional variables have brought Iraq back into the fold, considering the rapidly changing regional and international conditions affecting various parts of the world, from the Russo-Ukrainian War to the global energy market crisis and price instability. Iraq has returned as a key player in shaping regional and international policies and a major player in the global energy market, experiencing a period of security and political calm.
According to Iraqi political researcher Wathiq Al-Jabri, Erdogan's visit aims to address past crises and begin turning a new page. However, some crucial issues remain, including the water crisis, caused by the reduction of Turkish water discharges into the Tigris and Euphrates rivers, resulting in a major crisis with shrinking agricultural areas and increasing desertification that threatens the food security of the country. Furthermore, the presence of Kurdistan Workers' Party fighters in northern Iraq poses another challenge after the Turkish government flooded their areas of presence.