Iran
Iran… Official fears of revival of "fuel protests"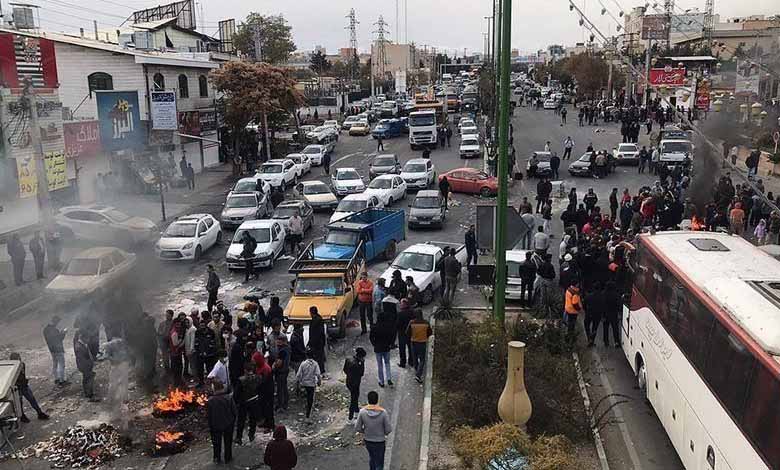 ---
Iran's Interior Minister Ahmad Vahidi made the remarks on Thursday, expressing official fears that demonstrations could be staged on the second anniversary of the fuel protests that have claimed dozens of lives and led to hundreds being arrested.
Iran's Interior Minister said on Thursday that Iran's enemies (he did not name them) are planning protests in November like what happened in 2019 and that the shutdown of fuel stations in Iran is the beginning of creating demonstrations.
Wahidi said the recent cyberattack on gas stations, and people's concern about the issue of gasoline, is part of "enemy planning".
Vahidi's statements coincide with unrest at gas stations across Iran due to a software failure that affected the system for paying subsidized cards, amid the deployment of security forces at some of these stations.
Cyber attack
Last Tuesday, the Iranian Students News Agency (ISNA) reported that nearly 4,300 gas stations were decommissioned in Iran due to a cyberattack, noting that "700 of them have been restored to service".
Officials from the National Iranian Oil Distribution Company are holding an emergency meeting to discuss the problem, said Ali Frouzendeh, director of public affairs at the Ministry of Oil.
Millions of drivers in Iran rely on fuel cards used by the government to manage the distribution of subsidized gasoline.
"Protests broke out in November 2019 in some 700 locations inside Iran, after authorities raised fuel prices without warning, and lasted for 10 days, during which 7,113 people were arrested".
Iranian officials have acknowledged that the authorities are responsible for killing 80 percent of the victims of the November 2019 protests.
"The Interior Ministry said at the time that fewer than 225 people had been killed in the November protests across Iran over fuel price hikes, but non-governmental estimates put the real number much higher".
Where's our fuel?
In Ispahan province, south of Tehran, the billboards were replaced with the squares and bridges in a number of provinces, replaced by the words "Khamenei, where is our gas?"
"Photographs from Ispahan show that digital billboards in this city have come under cyberattack", ISNA wrote, but the story was removed minutes after publication.
The agency reported that the cyberattack was "carried out by foreign agents", while long lines formed in front of gas stations in various Iranian cities.
Darkness and water scarcity
In July, the southwestern city of Ahvaz witnessed mass demonstrations called "water protests", resulting in deaths and injuries to demand water supply and the resignation of local government officials, due to mismanagement of the crisis that is engulfing the region of around 5 million people.
Iran's water scarcity is due to some weather-related factors, including a sharp drop in rainfall that has dropped by more than 40 percent from last year's levels in recent months.
"The drought has also reduced hydroelectric water in Iran's dams, causing power outages in recent weeks". Decades of mismanagement by the Iranian government have also contributed to the drought, according to experts.
In the same month, several provinces witnessed continuous power outages as a result of the shutdown of some power plants, especially Bouchehr, Iran's oldest nuclear power plant, due to what they described as a "technical fault".
Energy officials in Iran have warned of a chronic electricity crisis in Iran as winter approaches, especially with the continuing drought, gas shortages, and infrastructure erosion, in addition to the Bitcoin currency industry, which is held by the Iranian Revolutionary Guard Corps; they consume a lot of electricity.
Iran has the world's second-largest gas reserves and one of the world's richest oil resources, which can be used as fuel in power plants, yet it is one of the country with the most complaints about electricity.
Boiling in the Iranian street
Mohammad Mohsen Abu Nour, head of the Arab Forum for Analysis of Iranian Politics (AFAIP), said Vahidi's statements have two dimensions. First, there are intelligence reports about the boiling of the Iranian street and the country is pregnant with a protest similar to 2019 against the backdrop of multiple crises, most notably energy and drought, which have already seen protests.
Abu Nour added: "The second dimension is the state of anger and resentment that Iranians are experiencing due to the continuous foreign cyber intrusions without any response from Tehran, as happened with nuclear plants and recently gasoline stations".
He said Iranian anger stems from the large budget allocated to the Supreme Council for Cybersecurity, which was established by Supreme Leader Ali Khamenei in 2012 and is headed by the country's president.
Regarding the regime's tools to confront protests, Abu Nour said that the Iranian regime is based on loyalty in selecting security personnel, whether in the internal security forces or the Revolutionary Guards. He added that any protests will be met with repression, as was the case before.