Arabian Gulf
Qatar submits to homosexual fans, takes measures for their safety during World Cup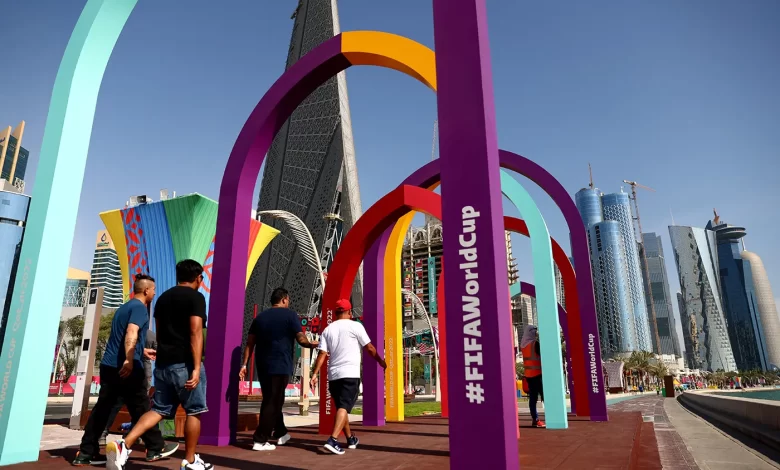 ---
After misleading Qatari promises to protect homosexuals on its soil, Doha opposed the principles and rules of Islamic teachings in order to attract fans, and later to try to improve its image in other ways, so that it could face foreign criticism and then announce measures to protect homosexuals during World Cup celebrations.
Over the past few hours, Qatar's Foreign Minister said Qatar had taken "real steps" to ensure the safety of LGBT+ fans.
Qatar has taken "real steps" to ensure the safety of LGBT+ fans attending the World Cup, said Secretary of State James Cleverly.
Cleverly told the BBC he had "difficult conversations" with his Qatari counterparts and it was clear how seriously the UK was taking the issue.
The run-up to the tournament has seen concerns raised about the LGBT+ community as well as broader human rights in Qatar.
Homosexuality remains illegal under the country's laws.
Mr. Cleverly has just returned from Qatar, where he met British police, consular officials as well as ministers from the Qatari government, and when asked if Qatar is safe for LGBT+ lovers, he said that LGBT+ rights is an issue that he "raised over several years" while working with the hosts in preparation for the event.
"I've made it clear that we feel very strongly about this issue, and in fact one of the advantages of having a strong relationship with other countries is that you can have these difficult conversations," he said. "The Qataris know how serious we are about dealing with this issue and have taken real steps to ensure that gay football fans are safe and feel safe and can enjoy football."
Be respectful in Qatar, the minister told LGBT+ community.
LGBT Welsh fans 'disrespected' at World Cup opening.
The decision was made by Qatar, in order to please America at the expense of Islam, as U.S. Secretary of State Antony Blinken on Tuesday called the International Soccer Federation's (FIFA) ban on supporting homosexuals during World Cup matches in Qatar "disturbing."
Hours after watching the U.S.-Wales game, Blinken said in Doha at a news conference that no team should be chosen between "supporting their values" and playing games.
Seven European teams participating in the 2022 World Cup in Qatar have announced that they have changed their decision to wear the same-sex support badge during matches to avoid sanctions, expressing in a joint statement on Monday "disappointment" with FIFA.
England, Wales, Belgium, Denmark, the Netherlands, Germany and Switzerland issued a statement saying: "FIFA has been very clear that it will impose sports sanctions if our leaders wear (pro-gay) badges on the field."
Asked after talks with his Qatari counterpart, SheikH Mohammed bin Abdulrahman bin Jassim Al Thani, Blinken said: "It's always alarming when we see any restrictions on freedom of expression," and, according to the U.S. secretary, "no one on the football field should be forced to choose between supporting their values or playing games."
The Guardian says: FIFA and the Qatari authorities held urgent talks after seizing Welsh fans' hats bearing the rainbow flag.