Europe
"We support you but we won't help you" Congressional Republicans fail Zelensky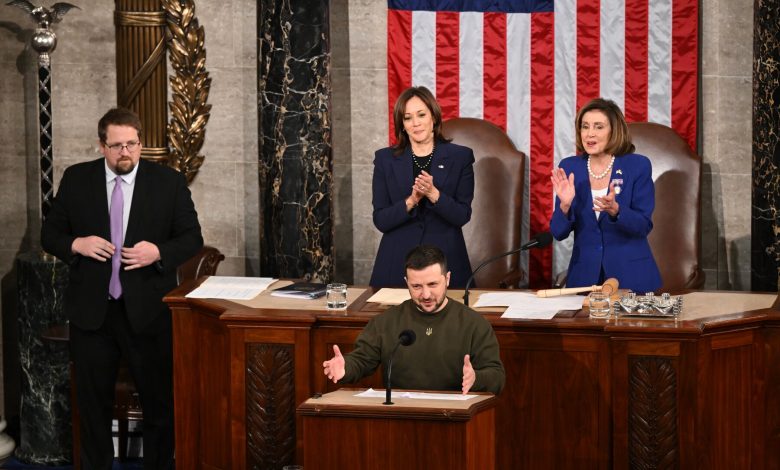 ---
Ukrainian President Volodymyr Zelensky received a warm reception and support in Washington, but securing help from the incoming Congress remains in doubt.
Republicans in Congress reacted to the Ukrainian president's speech by saying that we "support you" but "won't help you" with U.S. money, in a position that could be described as failing the Ukrainian president, who was hoping for more generous U.S. support.
"Zelensky's speech, delivered on Wednesday at the Capitol, was well received by members of both parties, but Republicans who have been selected to take top leadership positions have yet to show a willingness to commit to continuing funding military aid to Ukraine at the next session," Politico reported.
The reception Zelensky received from Republicans in Congress on Wednesday was largely positive, but the Republican bloc in the House of Representatives, which supported him and his army, as well as the Ukrainian people, in the battle against Russia, are the same ones who also said that they "plan to exercise oversight powers to audit the tens of billions spent by the United States."
"There clearly is a concern that the money isn't getting where it wants to go," House Deputy Majority Leader Steve Scalise said in an interview with the newspaper. Directing taxpayer money anywhere, whether domestic or foreign, is worth reviewing."
Asked if the House would continue to support Ukraine next year, Scales said, "We've expressed interest in making sure the money is reviewed, and that's what we're working on."
The same message was echoed by House Republicans such as Representative Pat Fallon of Texas, who noted concerns about money going to Ukraine in general, citing the country's efforts to curb corruption.
"We need to do this in a transparent way, ensuring that resources go to where they are most needed in Ukraine," Fallon said.
More conservative Party members have made no secret of their intentions to seek to block further aid.
"We have to focus on trying to contain the war, not expand the war," Representative Warren Davidson, a Republican from Ohio, said in an interview with the newspaper. What is being said today sends a message that we are somewhat in favor of expanding the war, and I think we must send a different message."
Regarding overseeing more money for Ukraine, he said, "I would no doubt support a vote to appoint an inspector general to find out what they did with all the money we already sent them."
Shortly after Zelensky's speech ended, Representative Matt Gates (R-FL) tweeted, "President Zelensky must be commended for putting his country first, but American politicians who have been following his orders are not prepared to do the same for our country."
He continued: "The hemorrhaging of billions of taxpayer dollars for Ukraine while our country is in crisis is a definition of the end of America, I will not change my position on suspending assistance to Ukraine and investigating transfer fraud that has already been done."