Arabian Gulf
Yemen: An attack occurred at Aden airport with the death of 13 person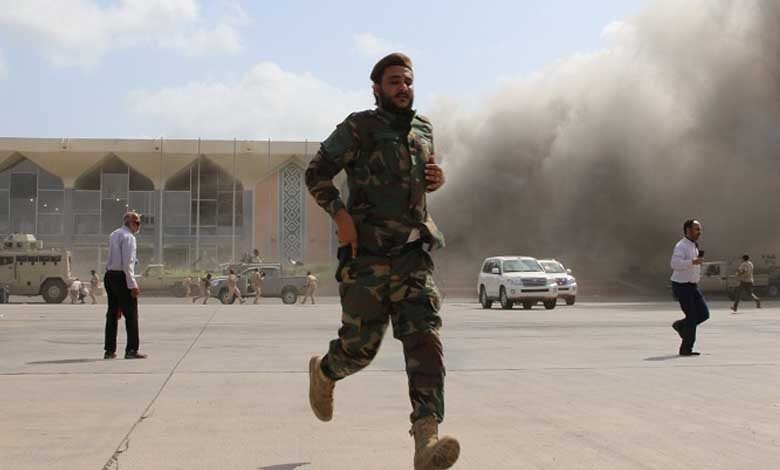 ---
An Al Arabiya correspondent stated that a big explosion and shooting was heard on Wednesday at Aden airport just after the landing of a plane transporting Yemen's newly-formed government.
About this attack on Aden airport, two local security sources informed Reuters that at least thirteen people were murdered and dozens more were injured. But, there was no instant claim of responsibility for the assault. In fact, Yemeni government ministers have not been harmed in the incident, said an Al Arabiya reporter refereeing to initial reports.
The cabinet members including Prime Minister Maeen Abdulmalik, as well as Saudi Ambassador to Yemen Mohammed Said al-Jaber, were transferred safely to the city's presidential palace.
Maeen said in a tweet from Maasheq palace: We and the members of the government are in the temporary capital of Aden and everyone is fine, adding that the cowardly terrorist act that targeted Aden airport is part of the war that is being waged against the Yemeni state and its great people.
Besides, a local security source stated that three mortar missiles had landed on the airport's hall. On his part, Martin Griffiths, the UN Special Envoy of the Secretary-General for Yemen, denounced the airport violence, describing it as an unacceptable act.
He also said on Twitter: I strongly condemn the attack at Aden airport upon the Cabinet's arrival and the killing and injury of many innocent civilians. My sincere condolences and solidarity to all who lost loved ones.
He added: I wish the Cabinet strength in facing the difficult tasks ahead. This unacceptable act of violence is a tragic reminder of the importance of bringing Yemen urgently back on the path towards peace.