Exclusive
An Emirati kiss for a Palestinian child from Gaza steals hearts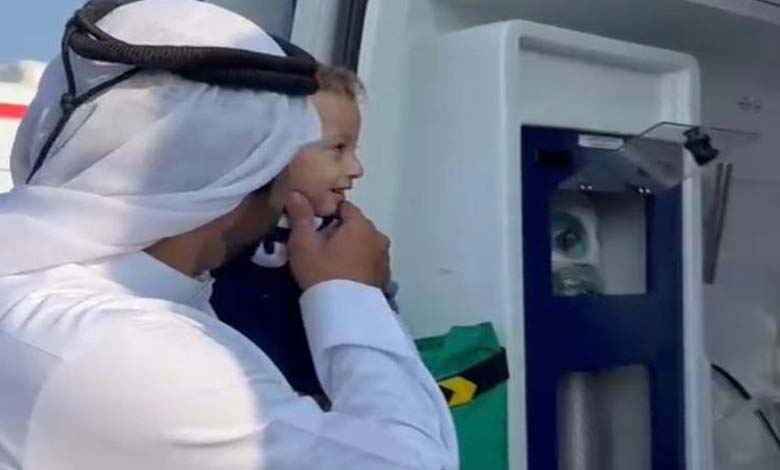 ---
Humanity does not require much; a single word or a kiss is enough to restore a small child's smile and wipe away the dust of a war whose intricacies he does not comprehend, but is subject to its repercussions.
This is what the Emiratis do, a people accustomed to generosity following the approach of their leader, Sheikh Mohamed bin Zayed Al Nahyan, and in the footsteps of the founder, the late Sheikh Zayed bin Sultan Al Nahyan.
This approach manifests itself whenever the sound of bombing echoes in a corner of the land, as is happening in Gaza, a territory where its civilians, especially children, bear the painful toll of a war that deducts from their right to a secure life.
Because the United Arab Emirates has always been a support for brothers and friends, it took the initiative, under the guidance of Sheikh Mohamed bin Zayed Al Nahyan, to host a thousand injured children from Gaza for treatment and care in the country's hospitals.
Indeed, just hours ago, a plane carrying the first batch of these children, accompanied by their families, landed at Abu Dhabi Airport for a healing journey provided by the UAE in solidarity with the Palestinian people.
Kiss 
Under intense care and in equipped vehicles, the injured children were transported from the plane to specialized hospitals. The smiles of the medical staff and companions did not fade from their faces, creating a positive and reassuring atmosphere for these children and their families.
In the midst of these atmospheres, no member of the Emirati team missed the opportunity to notice a small child in the vicinity. One of them picked him up and kissed him, and the child seemed happy with all the attention.
The child is fatherless, having lost his father in the ongoing war in Gaza. His mother, also injured, is hosted by the UAE alongside the children to receive treatment in hospitals until she fully recovers.
The Palestinian mother experienced the horrors of the Gaza war, losing her husband in it. Through her treatment journey in the UAE, she hopes to recover for the sake of her family, which lost its support.
On Saturday, the first of the planes arrived at Abu Dhabi Airport from El-Arish Airport in the Arab Republic of Egypt, carrying children in urgent need of medical assistance, suffering from severe injuries and burns, as well as cancer patients in need of urgent treatment.