Exclusive
The UAE receives the first plane as part of the initiative to host 1000 Palestinian children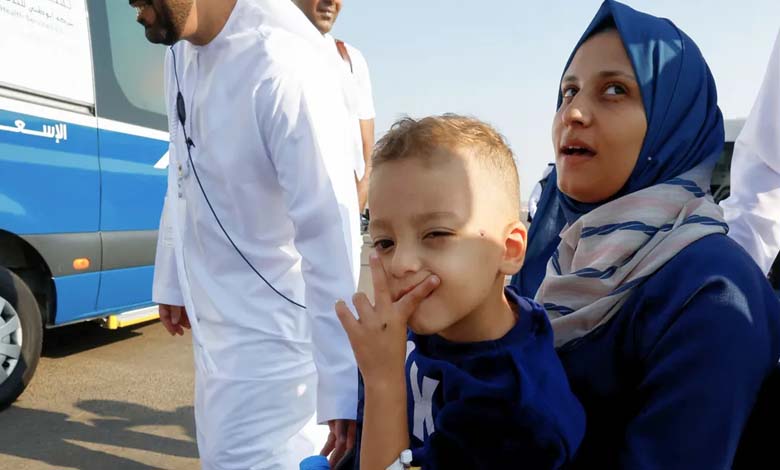 ---
Today, the first plane carrying 15 individuals, including children and their families, arrived as part of the initiative by Sheikh Mohamed bin Zayed Al Nahyan, the President of the UAE, to treat a thousand Palestinian children along with their families from the Gaza Strip in UAE hospitals.
The plane, coming from El-Arish Airport in the Arab Republic of Egypt, landed at Abu Dhabi Airport, carrying children in urgent need of medical assistance, suffering from severe injuries and burns, as well as cancer patients in need of urgent treatment.
Maha Barkat, Assistant Minister of Foreign Affairs for Health Affairs in the UAE, affirmed that all medical and health teams and hospitals in the country are fully prepared to receive the remaining children and their families, provide comprehensive and integrated care for their treatment, and offer the best specialized services according to international standards until they recover and return.
She added, "Since the beginning of the crisis, the UAE has rushed to provide urgent humanitarian aid and supplies to the Gaza Strip." She continued, "In this regard, Sheikh Mohamed bin Zayed Al Nahyan, the President of the UAE, directed the provision of aid amounting to $20 million and the establishment of a comprehensive field hospital within the Gaza Strip as part of Operation Gallant Knight 3."
She pointed out that as part of supporting relief efforts in the Gaza Strip, the UAE has sent 51 planes carrying 1400 tons of food, health aid, and shelter materials in coordination with international organizations such as the World Food Programme.
These initiatives embody the UAE's approach and its historical commitment to supporting the Palestinian people and alleviating the severity of the humanitarian crisis they face, especially the most vulnerable groups, including children who constitute about half of the population of the Gaza Strip (over a million children). This comes within the framework of the UAE's strong fraternal positions towards the Palestinian brothers.