Society
"Coffee: One of Ethiopia's Main Sources of National Income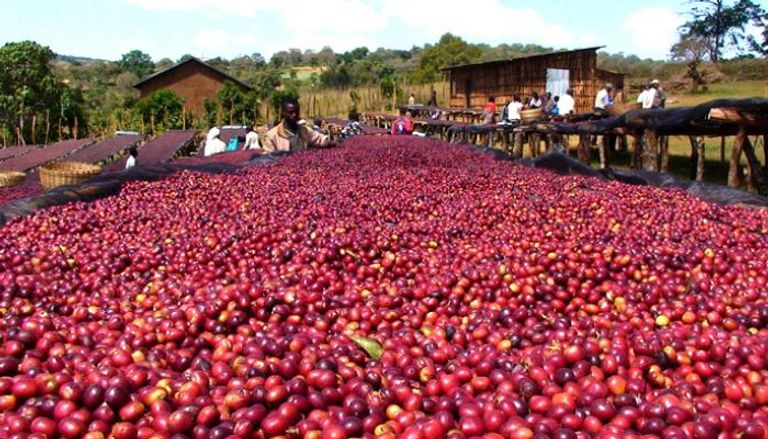 ---
Coffee is considered one of the most important sources of national income in Ethiopia, with the Jimma region in the western part of the country being one of its significant production sites.
This product, which provides employment opportunities for millions of Ethiopians, finds its way to markets as it ranks among the best in the world.
Agriculture in western Ethiopia represents the backbone of life for over 90% of its population. In the city of Jimma and its surroundings, coffee farms are widespread.
The coffee crop is a fundamental pillar of the country's economy, accounting for more than thirty-five percent of the state's revenues. This explains the interest in coffee cultivation here in Jimma and the high regard that agriculture workers have for their crops.
According to Mohy Eldin Nasser, a farmer from Jimma, regarding coffee cultivation: "Within three years of planting, the coffee tree becomes productive. Most of the population works in coffee cultivation, and when the harvesting season arrives, there are specific methods for collecting, cleaning, and peeling the coffee beans. After grading, it is packaged for sale in local and global markets."
Jimma produces no less than 50,000 tons of coffee every year, prompting the government to work towards providing all that farmers need to care for their crops.
Coffee constitutes a primary source of income for more than ninety-five percent of the population of Jimma and its surroundings, who work in its cultivation. Thus, coffee has become one of the important sources of the country's income, surpassing $1.4 billion in revenues last year.
500,000 people from Jimma's population are engaged in coffee production, which revitalized the coffee trade in this region, where coffee consumption is part of daily routines and traditions inherited from ancestors.
Ryan Mohammed, a coffee trader, says in his interview with Sky News Arabia: "Coffee is an important source for Ethiopians, as more than fifteen million people work in its fields. Seven million of them can be found in the Jimma region. Counting the workers in this field can be challenging, especially since the farmers themselves have become producers and exporters."
Abagdey Abalo, a resident of Jimma, adds: "Coffee is our favorite drink, and we can't do anything before having it. It has known and necessary preparation methods that are generally a part of our social lives. Not only that, but it also serves as a source of livelihood for many of the people in our country."
Although coffee is not the only agricultural product in Ethiopia, more than twenty million people work in this sector."