Middle east
Hamas intensifies its defense of Gaza after Israel expands its ground attacks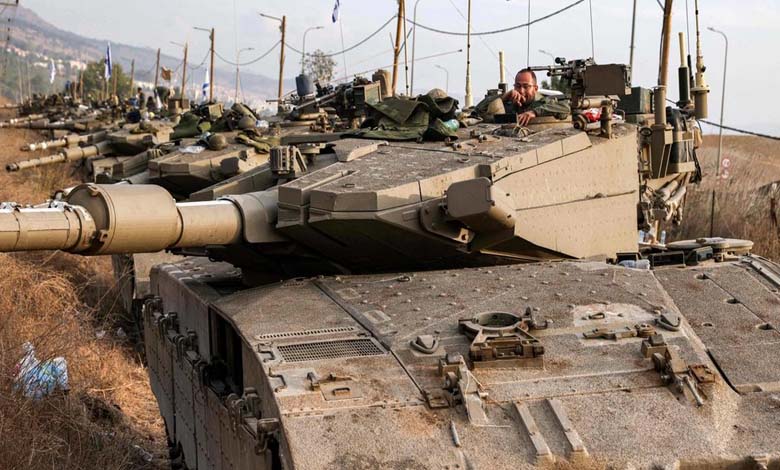 ---
The Israeli army announces the destruction of 150 underground targets and the killing of the head of Hamas' airborne group, who participated in Operation Storm Al-Aqsa. 
The Palestinian Islamic Resistance Movement (Hamas) stated today, Saturday, that its fighters in Gaza are ready to confront Israel's attacks 'with all their might,' as the Israeli army extended its aerial and ground attacks on the sector, while Israel claimed to have struck 150 underground targets. 
Hamas announced that its fighters are clashing with Israeli forces in areas close to the border with Israel after Israel intensified its attacks on Gaza. Internet and communication services remained disrupted for over ten hours until early today, Saturday. Telecommunications companies and the Red Crescent Society stated that the disruption was due to Israeli shelling. 
The Israeli army's spokesperson, Admiral Daniel Haggari, stated in a televised briefing last Friday evening, 'In addition to the attacks carried out in the past two days, ground forces are expanding their operations tonight,' raising questions about whether the long-anticipated ground invasion of Gaza has begun. He added that the Israeli Air Force is conducting intensive strikes on tunnels dug by Hamas and other underground infrastructure. 
The Israeli army today, Saturday, stated that it killed the leader of Hamas' airborne group who was involved in planning the attack on the seventh of October on towns in southern Israel. 
The Israeli army announced that its fighter jets struck '150 underground targets' in the northern Gaza Strip last Friday night. The statement reads: 'During the night, fighter jets struck 150 underground targets in the northern Gaza Strip, including tunnels used by terrorists, underground combat sites, and other facilities. Several terrorists from Hamas were killed.' 
Al-Qassam Brigades, the military wing of Hamas, stated late last Friday that its fighters engaged with Israeli forces in the town of Beit Hanoun in northeastern Gaza and in Bureij in the central Gaza Strip. 
Hamas stated in an early morning statement today, Saturday, 'The Al-Qassam Brigades and all the forces of Palestinian resistance are fully ready to confront the aggression and thwart incursions.' The statement added, 'Netanyahu and his defeated army will not be able to achieve any military accomplishment.' Israeli forces gathered outside Gaza, where Israel has been conducting intensive aerial bombardments since the attack carried out by hundreds of Hamas fighters on Israel on October 7, targeting Israeli residential areas near the sector. Israel claims that 1,400 people were killed in this attack, most of them civilians, while Hamas took more than 200 hostages, some of them foreigners or holding dual nationality with Israeli citizenship. 
Al-Jazeera, which broadcast live footage showing repeated explosions in Gaza during the night, stated that Israeli airstrikes targeted areas around the main hospital in the sector. 
The Israeli army accused Hamas last Friday of using the hospital to conceal its tunnels and operational centers, a claim denied by the movement. 
The United Nations General Assembly, with an overwhelming majority, called last Friday for an immediate humanitarian ceasefire between Israel and Hamas and demanded the delivery of aid to Gaza and the protection of civilians. 
Although the resolution is not legally binding, it has significant political importance and reflects global sentiments. It was passed with 121 votes in favor, 44 abstentions, and opposition from 14 countries, including Israel and the United States. 
The New York City Transit Authority stated that hundreds of demonstrators demanding an end to the firing between Israel and Hamas closed Grand Central Station, one of the city's main transportation hubs. 
The protest was organized by a group called 'Jewish Voice for Peace.' Following Israel's announcement of intensifying its operations, John Kirby, the White House National Security Council spokesperson, stated that the United States supports a ceasefire of Israeli military activity in Gaza to deliver humanitarian aid, fuel, and electricity to civilians there. 
Kirby did not comment on the extensive ground operation. However, he stated that Washington supports Israel's right to self-defense and added, 'We do not set red lines for Israel.' Kirby also said that if the release of more than 200 hostages kidnapped by Hamas from Gaza requires a temporary local ceasefire, the United States supports that. The U.S. Department of Defense (Pentagon) stated last Friday that Defense Secretary Lloyd Austin emphasized the 'importance of protecting civilians' during operations in Gaza during a phone call with his Israeli counterpart Yoav Galant. 
In a live TV broadcast from Gaza on Saturday morning, an Al-Jazeera correspondent described the internet and phone communication outage as 'catastrophic' for relief efforts following a night of intensive Israeli shelling. 
He added that residents had to transport the dead and wounded in their own vehicles to hospitals because they could not communicate with emergency services. Palestine's telecommunications company (Paltel), the largest provider of wired and wireless communications in Gaza, announced 'a complete outage of all communication and internet services with the Gaza Strip.' 
The Red Crescent Society stated that it had completely lost all communication with its operations room in Gaza, as well as its teams working there, while the government run by Hamas in the sector stated that rescue teams cannot receive emergency calls. 
Doctors Without Borders stated that it was unable to reach some Palestinian colleagues and expressed particular concern for 'patients, medical staff, and thousands of families who have taken refuge in Al-Shifa Hospital and other healthcare facilities.' 
Catherine Russell, the executive director of the United Nations Children's Fund (UNICEF), stated that the organization can no longer communicate with its staff in Gaza. Mark Regev, an advisor to Israeli Prime Minister Benjamin Netanyahu, told MSNBC that Israel had begun to retaliate against Hamas and added, 'Gaza will feel our anger tonight.' 
He told Fox News, 'They will continue to receive our military strikes until we dismantle their military machine and dissolve their political structure in Gaza. When this ends, Gaza will be entirely different.' The Palestinian health authorities said that the Israeli shelling has led to the death of over 7,000 Palestinians. 
Concerns about the risk of a wider conflict in the Middle East have increased in recent days as the United States sent more military assets to the region while Israel bombards targets in Gaza and Hamas supporters in Lebanon and Syria. Israeli airstrikes have destroyed a large part of Gaza's infrastructure, which has been under siege since 2007. 
Palestinians have received new Israeli military warnings to move from northern Gaza to the south to avoid the bloodiest battlefield in the war. Residents in Gaza say that moving to the south is still fraught with severe risks amid the aerial bombardments and shelling of southern areas as well. 
Many families have refused to leave, fearing a repeat of previous wars with Israel when Palestinians who left their homes and lands were never able to return.