Exclusive
Iran protests – Night demonstrations in Tehran and the birthplace of Mahsa Amini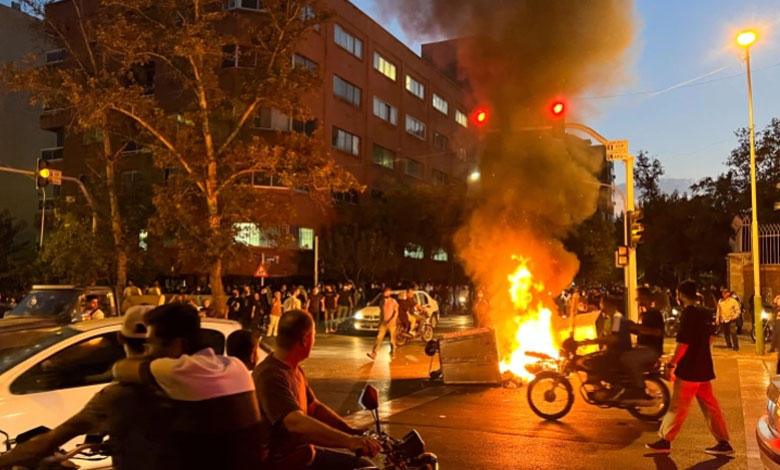 ---
With slogans against Supreme Leader Ali Khamenei, the city of Saqqez in Iran's western Kurdistan Province, the girl's birthplace of Mahsa Amini, witnessed nighttime protests.
Videos showed protesters burning tires in streets and alleys, chanting "death to the dictator" in reference to Iranian Supreme Leader Ali Khamenei.
Another video documented hearing gunfire from security forces on protesters in the city of Saqqez, according to the Saham News reform website.
In conjunction with the Saqqez protests, citizens in the Kurdish cities of Sanandaj and Marivan staged anti-regime protests in support of protesters in the Kurdish city of Saqqez.
Amini died in mid-September after she was arrested by ethics police in Tehran while visiting relatives under the pretext of not wearing the hijab imposed by the Iranian authorities.
After her death was announced, protests spread to all Iranian cities, prompting security forces to suppress the protests. He refused to disclose the number of people killed, injured, or arrested in the protests.
In other cities, including Tehran, Karaj, Mashhad, Isfahan, and Zahedan, night-time protests continued amid calls for the departure of the Iranian regime, which has been headed by the Iranian Supreme Leader for more than 40 years.
According to eyewitnesses, security forces opened fire on demonstrators in the city of Sanandaj, the capital of Kurdistan province, while protesters in Tehran chanted "Death to Khamenei" and "Woman .. life .. Freedom."
"In Karaj Warsht and Urmia in northern Iran, drivers have been involved in protests by blowing horns of vehicles, constantly."
Weeks after the killing of the girl Mahsa Amini by the so-called "morality police" in Tehran, and the ensuing protests, Iranian Supreme Leader Ali Khamenei declared, Monday night, his support for the security authorities' measures in the face of the protesters, whose demands have widened to include regime change.
"The death of the young girl is a bitter and unfortunate incident that has burned our hearts, but the reaction of some to her by destabilizing the security of the streets and citizens, burning the Koran, removing the veil from the heads of some veiled women, and setting fire to mosques, Hussainiyas and cars is not normal and natural," Khamenei said in a speech during the graduation ceremony of a group of students from Tehran's military universities.
Khamenei expressed support for security measures against protesters, saying, "In the events of recent days, the police and the Basij forces were more exposed to injustice than the Iranian people, but they have emerged strong as usual and will also appear in the future to the enemies."