Maghreb
Ministers of Interior of Tunisia and Libya Discuss Combating Irregular Migration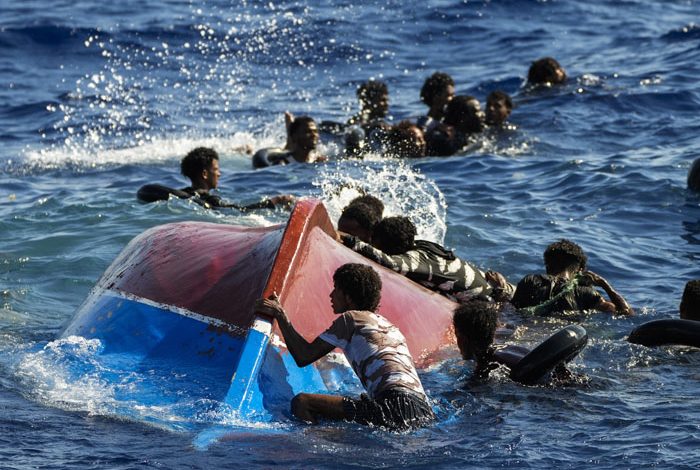 ---
The meeting between Kamel Al-Faqih and Imed Trabelsi comes after disputes that arose in the relationship due to the Libyan Ministry of Interior's publication of footage depicting irregular African migrants who arrived at the Libyan borders, exhausted and thirsty, having fled from Tunisia.
Tunisian Minister of Interior Kamel Al-Faqih and his Libyan counterpart Imed Trabelsi held discussions that addressed various issues, including combating irregular migration and facilitating operations at the Ras Jedir border crossing between the two countries. Recent tensions between the two nations were sparked by the arrival of a number of irregular African migrants at the Libyan border under unfavorable conditions. Tunisia criticized the images released by the Libyan authorities, accusing them of tarnishing Tunisia's image and harming bilateral relations.
The Tunisian Ministry of Interior stated in a press release that during the meeting in Tunis on Wednesday evening, the ministers discussed "a range of common security issues, most notably combating irregular migration and overcoming challenges to facilitate services at the Ras Jedir border crossing, as well as common security challenges."
The session highlighted "the significance of the issue of African migrants from Sahel (West Africa) and sub-Saharan countries and its implications for both nations, aiming to mitigate their influx across the borders," according to the statement.
For the past two weeks, irregular African migrants have been facing extremely difficult humanitarian conditions on the Tunisian-Libyan border after being displaced from their homes following clashes with Tunisians in the province of Sfax (south), triggered by the killing of a Tunisian young man. Tunisia has faced human rights criticism for its treatment of these migrants.
Conversely, Tunisia views the images and recordings published by a group affiliated with the Libyan Ministry of Interior regarding the migrants' arrival at the Libyan border, describing their exhaustion and thirst, as detrimental to Tunisia's image and bilateral relations.
The ministers called on international organizations to provide humanitarian assistance and fulfill their duties towards migrants. They also agreed to "enhance coordination and bilateral cooperation in the security realm, particularly in terms of information exchange, training, and combating organized crime."
Earlier, Minister Al-Faqih estimated that there are around 80,000 irregular migrants in Tunisia, including approximately 17,000 in Sfax.
In recent times, Tunisia has witnessed a significant increase in irregular migration towards Europe via the Mediterranean Sea, particularly towards the coasts of Italy. This trend has been driven by economic and political crises in Tunisia and other African countries, especially those south of the Sahara.
Former German Foreign Minister Katja Kuehnel emphasized that bilateral cooperation between her country and Tunisia is linked to "respect for humanitarian standards and human rights" concerning refugees and migrants. This was highlighted during her meeting with Tunisian Secretary of State for Foreign Affairs Monir Ben Rajab in the capital, Tunis.
Earlier, Tunisian President Kais Saied emphasized his rejection of his country becoming a transit point or destination for irregular migrants from sub-Saharan Africa, while affirming Tunisia's African identity. He called for addressing the migration phenomenon through supporting development projects rather than turning his country into Europe's border guard. Last month, Tunisia signed a memorandum of understanding with the European Union to address the issue of irregular migration in exchange for financial aid. However, President Saied refused for Tunisia to become Europe's border guard and called for confronting the migration issue through supporting development projects.