Society
Palestinian Equestrian Teaches Children and Girls Horseback Riding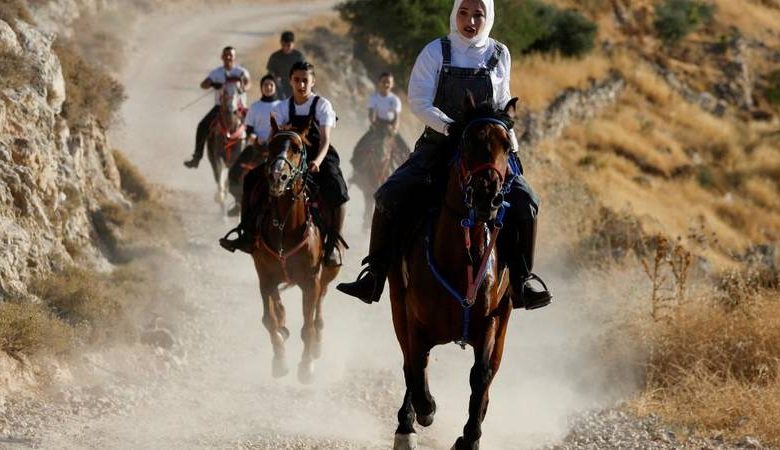 ---
The sound of horses' neighs blending with the powerful beats of their hooves on the ground is controlled by a confident young Palestinian equestrian as she moves through the green meadows.
In the West Bank, equestrian rider Mayar Al-Ayaida takes on the task of teaching young children and girls the art of horseback riding.
Al-Ayaida is a rider and trainer who roams freely on outdoor trails with horses, an uncommon sight within Palestinian society. She says, "Girls and even children have become braver and more daring in horseback riding. Parents usually discourage their daughters from participating in outdoor rides on horseback, but I'm not ashamed of what I do. It's a hobby and a way to unwind that anyone can enjoy."
Al-Ayaida interacts gently with the children and provides them with guidance rooted in her experience, sharing her riding and horse-handling skills with them.
She adds, "My journey with the love of horses and riding began at the age of twelve. My family owned a group of horses, and my attachment to horses grew stronger as I overcame my fear of them through observing my brother's comprehensive care for them from all aspects. And that's where my story began."
The Palestinian equestrian emphasizes that horses teach people, especially children, self-confidence, self-reliance, and patience.
Regarding her love for horses, young Lamees Suaifan says, "My love for horseback riding began when I met trainer Mayar Al-Ayaida, who generously shared with me the necessary information and techniques about horses and how to interact with them. My love and attachment to horses grew stronger and stronger."
Al-Ayaida confirms that horse racing and horse training are traditional activities that help challenge and rebel against outdated and obsolete social restrictions and challenges.