Society
Police Raided the Home of a 98-Year-Old Woman… Then Came the 'Sad News'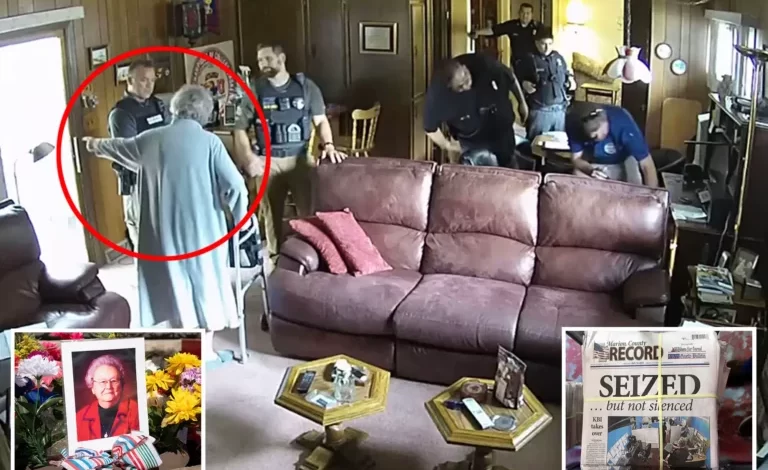 ---
A video clip showed officers from the US police raiding the home of a 98-year-old newspaper publisher who passed away the following day.
The US police in Marion, Kansas, raided the home of Joan Mayer on August 11, based on a search warrant that was later canceled. Less than 24 hours later, Mayer passed away from a heart attack, and her son Eric believes that "the stress caused by the raid led to her death."
In the video captured by a surveillance camera and shared by the family, Mayer can be seen using a "walker" to aid her movement, while the police search her house. The newspaper publisher of the local "Marion County Record" can be heard saying to the officers, "Get out of my house. I don't want you in my house. Don't touch any of these things."
Joan Meyer, the 98-year-old co-owner of a local newspaper, was captured on surveillance video calling out police officers for raiding her home on 11 August, just hours before she collapsed and died, partly from the stress induced by the raid.

See more 👉 https://t.co/yMB62zwYQ5 pic.twitter.com/KCw79xNRrw

— Sky News (@SkyNews) August 23, 2023
She added, "What are you doing? These are personal papers. Leave from here."
The newspaper office and the home of a city council member were also raided on the same day, after a local restaurant owner claimed that the "Marion County Record" newspaper had obtained information about her illegally.
The district attorney later stated that there was not enough evidence to justify the raid, search, and confiscation of electronic devices, including the mobile phone and computers, from the house.
The local newspaper mentioned, "Mrs. Mayer was extremely stressed, beyond her limits, and spent hours in shock and sadness after the raid."
The Marion County records indicated that the coroner's report "describes the anger and anxiety that Mrs. Mayer experienced as contributing factors to her death."