Policy
Sweden condemns Quran burning, regrets abusing its constitution on freedom of opinion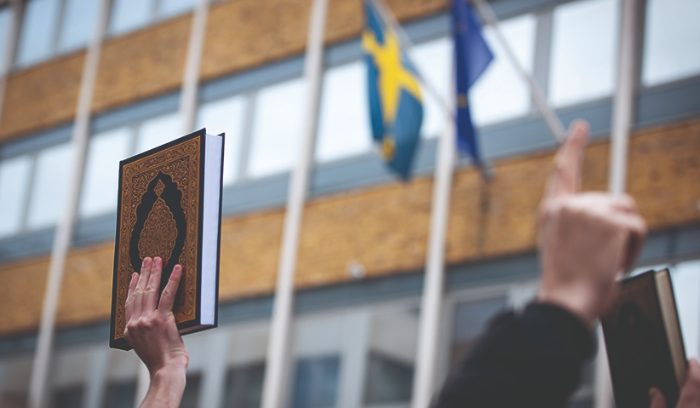 ---
While its authorities have once again allowed the burning of the Quran, sparking a backlash from Muslims and the international community, Sweden's Foreign Minister Tobias Billstrom, during a phone call with his Saudi counterpart Faisal Bin Farhan, expressed his regret that some are exploiting his country's constitution on freedom of opinion, stressing the need to stop all acts that offend religions.
According to the Saudi Press Agency, Faisal Bin Farhan received a telephone call on Thursday from Belstrom, which affirmed "his country's condemnation and denunciation of all attempts to burn copies of the Holy Quran." He expressed "deep regret over the explicit exploitation by some people in his country of the Swedish Constitution on freedom of opinion," stressing that "his country seeks to stop all acts that offend religions and divine books."
For his part, the Saudi Foreign Minister renewed "Saudi Arabia's total rejection of all attempts to offend the Holy Quran and its demand that immediate measures be taken to stop these extremist acts that are trying to undermine divine books and provoke the feelings of Muslims around the world."
"Repeated burning of copies of the holy Quran fuels hatred and limits efforts at dialog between peoples and civilizations," he said during the call.
In addition to requests to burn the Quran, there are also requests to burn other religious books such as the Bible and the Torah, prompting many to criticize Sweden.
Swedish media reported on Friday that Sweden was moving to make its first decision after several incidents of Quran desecration in Stockholm, in recent weeks. The Swedish immigration agency said it is re-examining the residency permit granted to an Iraqi refugee who was behind several incidents of Quran desecration, sparking outrage around the world.
"The man has a temporary residence permit in Sweden, which is due to expire in 2024, but the agency is reconsidering the issue, Swedish news agency TT reported."
In an e-mail to the Swedish newspaper Svenska Dagbladet, the immigration agency stated that information from the Swedish authorities provided a justification for examining whether a man's status in Sweden should be revoked.
"The refugee burned a copy of the Quran last month in front of the main mosque in Stockholm, and held a demonstration in front of the Iraqi embassy in Stockholm in July, in which he said he would burn a copy of the Quran, but did not do so."
Sweden has found itself in the international spotlight in recent weeks after copies of the Quran were desecrated and burned.
Swedish courts have ruled that the police cannot prevent the burning of holy books, but the government of Prime Minister Ulf Christerson said earlier in July: It will examine whether there is a reason to change the public order law to enable the police to prevent the burning of the Quran.