Exclusive
The Emirati humanitarian team distributes 200 heads of cattle to the residents of the Hilla area in Amdjars, Chad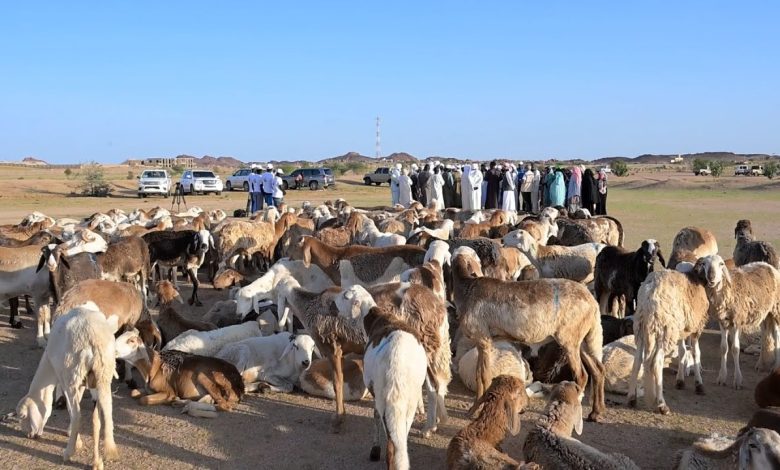 ---
Continuing the humanitarian efforts, the UAE humanitarian team in Am Djars, Chad, distributed 200 heads of cattle to needy families in the Hilla area. The new initiative aims to provide essential needs to these families. In recent days, the humanitarian team has distributed over 188 food baskets, benefiting more than 1128 families in the same region.
The humanitarian team consists of the UAE Coordination Office for Foreign Aid, the UAE Red Crescent Authority, the Zayed bin Sultan Al Nahyan Charitable and Humanitarian Foundation, and the Khalifa bin Zayed Al Nahyan Foundation for Humanitarian Works.
Ali Obaid Al Brikki, Director of the Coordination Office for Foreign Aid in Chad, stated that the UAE humanitarian team in Amdjars is continuously striving to provide necessary humanitarian assistance to Sudanese refugees in Chad, as well as the local community, especially vulnerable families, and those most in need such as patients, children, the elderly, and women.
He expressed deep gratitude to the Republic of Chad and its government for facilitating the UAE team's efforts to provide aid to Sudanese refugees and the local community in AmDjars and its outskirts.
He affirmed that the UAE, under its wise leadership's guidance, is committed to offering all forms of food and medical support to the region's residents, alleviating their suffering. Mayor Aboud Hashim Badir of Am Djars commended the UAE's relief efforts, noting that they identify the needs of Sudanese refugees and the local community on the ground.
This reflects the UAE's humanitarian commitment to delivering aid to those in need. He expressed gratitude to the UAE for its support to the Chadian people through relief aid, emphasizing that the UAE is known for its humanitarian initiatives. He hoped that the UAE humanitarian team would continue providing assistance to other regions of Chad, especially those facing circumstances similar to Amdjars.