Policy
Turkey: Protests demand the resignation of Erdogan and his party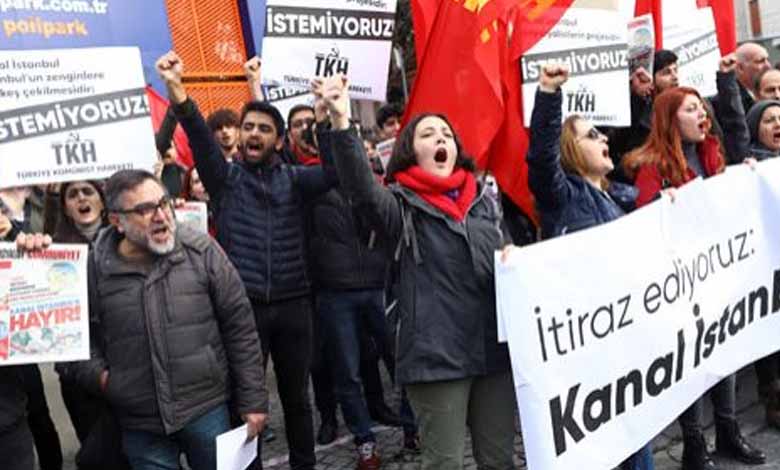 ---
Dozens of Turkish protesters in the capital Ankara and Istanbul demanded the resignation of the Justice and Development Party led by Recep Tayyip Erdogan, against the backdrop of rising dollar and euro exchange rates and rising commodity prices.
Last night in Ankara, protesters repeated slogans: Of which: "Justice and Development Party… Resign", as videos of the opposition TELE 1 and a large number of social media pages showed.
Also in Istanbul, the Communist Party organized a protest rally in the Kadikoy district of Istanbul.
The Istanbul branch of the Communist Party called for action because of the high cost of living and recent economic developments. "We have to fight for our lives and our future, now is the time to stand up".
Demonstrators repeated slogans against President Erdogan, demanding the resignation of the government and early parliamentary elections.
The hashtag #hükümetistifa (Resignation of Government) is trending on Twitter. One tweet accused Erdogan of stealing people's money: "The wealth you have is what you stole from us".
Although the number of participants in Ankara and Istanbul gatherings has been limited, it is a rare occurrence in an era of justice and development in which citizens take to the streets against economic conditions.
"Protests, especially after the coup attempt, were being held for political purposes, or to demand greater freedoms, by Turkish civil society organizations, parties and human rights associations".
The Turkish lira fell to a record low of 13 pounds against the dollar on Tuesday, losing 15% of its value in a single day, and inflation reached 20%, as President Recep Tayyip Erdogan insisted on cutting interest rates.