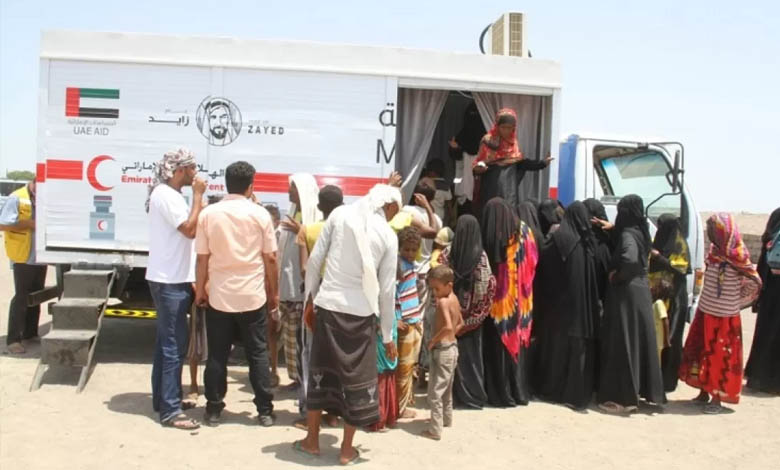 ---
The UAE's "mobile clinics" project has succeeded in alleviating the suffering of Yemenis in remote areas without hospitals or medical centers.
Recently, mobile medical clinics operated by the UAE's Red Crescent Society targeted remote and rural areas in Hadramaut province, providing health care to patients who have difficulty accessing fixed health facilities, Saba Net reported.
The authority set up a mobile clinic in the Radfan Mayfa area in coordination with the Public Health Ministry office in Brom Mayfa district. The clinic served about 200 patients; Of these, 100 are in the Department of Women and Obstetrics, 20 are in the Children's Section and 20 are in the General Section.
The mobile clinic comes as the UAE, represented by the UAE Red Crescent Society, is keen to provide relief and humanitarian aid to citizens in all fields to alleviate their suffering under the current circumstances in the country.
For his part, the Director of the Public Health and Population Office in the Brom Mayfa district, Salem Ahmed Barmil, explained that these mobile clinics have achieved tangible success through the large numbers of medical teams accompanying the clinics to obtain the necessary health care. He noted that these clinics, which regularly arrive in the district areas, have helped and relieved many of the patients' suffering in remote and rural areas far from the district center.
He added that the district health office is always keen to host such treatment clinics to provide free medical services. He thanked the UAE Red Crescent Society for continuing their initiatives and implementing such subsidized treatment programs in all areas of the district in the coming period in accordance with a specific order and plan.
A number of beneficiaries praised the efforts of the UAE Red Crescent Society in providing medical and treatment services to these remote areas, which have been greatly marginalized. They said the regular arrival of mobile medical clinics in their villages has eased the burden of traveling to hospitals in district centers located hundreds of kilometers away, especially in light of the difficult living conditions the country is experiencing.