Policy
A verbal battle between Hafid Derradji and Faisal al-Qassem; What happened?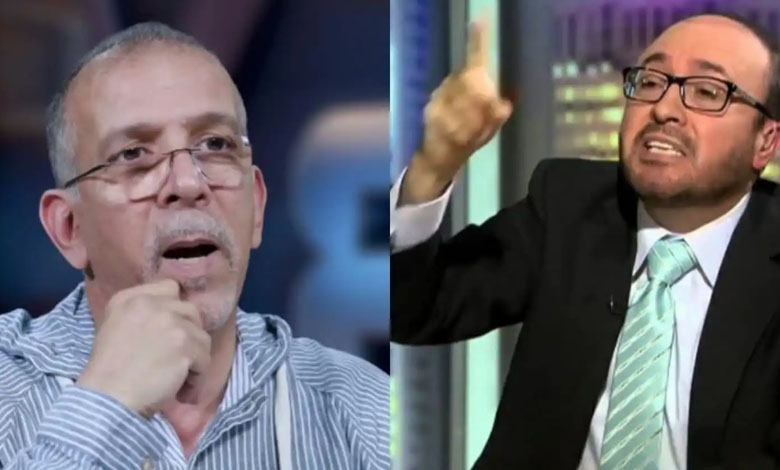 ---
Suddenly and dramatically, Algerian and Syrian media professionals Hafid Derradji and Faisal al-Qassem started a battle of words with tweets, which received wide acclaim on Twitter.
The verbal battle erupted after Faisal al-Qassem posted a tweet on his account attacking Algeria without explicitly mentioning it, saying: "A regime conspiring with Ethiopia against Egypt.. Regime allied with Iran against Arabs.. a regime hostile to its Arab neighbor Morocco. He wants to unite Arabs in an Arab Summit…
Hafid Derradji did not keep silent. He tweeted: "The important thing is that we do not betray, sell our country, our cause, or our honor, and do not boast in destroying our country in order to topple our president.. Algeria did not say that it would reunite the Arabs, because it would not be known, in light of the spread of dangerous types of drugs and hallucinations, and the increasing size of normalization with an entity that seeks to prevent holding the summit in Algeria using its agents".
As the attacks continued, Faisal al-Qassem published a report by an Algerian sports commentator entitled: (Hafid Derradji: Syrians have betrayed their country and sold their homeland and honor to topple a president).
Derradji retorted: "Syrians are much more honorable than every utterance, provocative and slanderous, and I am the son of a great revolution, a great people who liberated their country through their struggle, and created a great peaceful movement, in which they overthrew their president, so I cannot be against the will of the people for change, but I am against those who rejoice to destroy their country, and against those who incite against my country, and consider supporting Palestine as a headache".
Words that Faisal al-Qassem also commented on: "Leave the clean and honorable Palestine paper, it has become very transparent.. Use another one…
Since last July, Algeria has been intensifying its preparations to host the 2022 edition of the Arab Summit. It has launched the website for the 31st summit, which will be held on November 1st and 2nd. The summit will also mark the 68th anniversary of the outbreak of the Liberation Revolution against the French occupation (1954-1962).
After being postponed three times in a row (2020, 2021, and March 2022), the Council of Arab Foreign Ministers unanimously approved, last March, an Algerian proposal to hold the next Arab summit on November 1 and 2.
According to reports, the issue of Syria's return to its vacant seat in the Arab League "has not yet been resolved" by Arab countries.
In the meantime, I have put forward two hypotheses on the possibility of Damascus filling its vacant seat at the upcoming Arab summit in Algeria. The first is that "prior consultations between Arab capitals will lead to the participation of an official Syrian delegation in the Arab summit for the first time in 10 years."
The second hypothesis, which observers believe is "most likely" in light of the continuing disputes among Arab capitals, is that "the issue of Syria's return to the Arab League will be included in the agenda of the Arab summit for discussion and vote by the leaders of Arab countries at the Algiers summit."
Over the past months, Algeria sent its foreign minister to several Arab countries to reach an Arab consensus on the return of Syria to its vacant seat in the Arab League, especially after it confirmed its desire for the next Arab summit to be held on its territory "to reunite the Arab people".