Maghreb
Derna as Seen from Space: Stunning Images Reveal the Magnitude of Libya's Catastrophe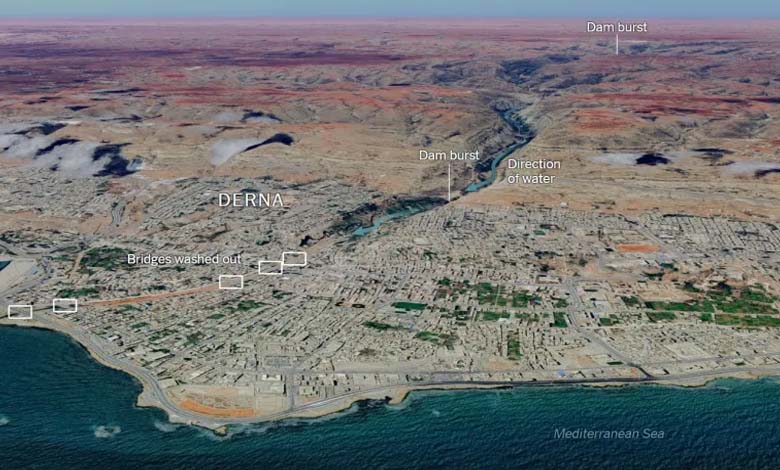 ---
The American company "Planet Labs," specializing in capturing images of the Earth from space, has documented the extent of the destruction inflicted upon the city of Derna in eastern Libya after it was recently hit by the storm "Daniel."
Thousands have died, with more than 10,000 still missing in Libya following the torrents and floods brought by the powerful storm that swept across the Mediterranean Sea. The storm resulted in dam collapses, swept away buildings and homes, and submerged nearly a quarter of Derna.
An aerial image depicts the sea as if it has swallowed a large portion of Derna following the catastrophe. Another image reveals the course of the flood, which carried away everything in its path.
One of the senior rescuers in the coastal city told Reuters that more than two thousand people lost their lives. Estimates from officials in eastern Libya, relayed by local television, put the death toll at over 5,000.
Storm "Daniel" battered the country, which has experienced division and collapse for more than a decade.
A Reuters journalist in Derna, home to about 125,000 people, witnessed neighborhoods turned into ruins after the torrents swept away buildings, overturned cars on roads covered in mud and rubble, uprooted trees from their roots, and submerged abandoned houses.
Mohamed Al-Qabisi, the director of the Unity Hospital in Derna, said that at least 1,700 people had lost their lives, with 500 people in another neighborhood.
Reporters from Reuters saw numerous bodies lying on the ground in hospital corridors. As more bodies arrived, residents inspected them in an attempt to identify their missing relatives.
Hisham Abu Shakwat, the Minister of Civil Aviation and a member of the Emergency Committee in the eastern Libyan government, told Reuters over the phone, "I have returned from there (Derna). The situation is extremely catastrophic. Bodies are strewn everywhere, in the sea, in the valleys, under the buildings."
He continued, "I don't have a total number of casualties, but it is substantial. Very substantial. The number of bodies recovered in Derna has exceeded one thousand. I'm not exaggerating when I say that 25 percent of the city has disappeared. Many buildings have collapsed."
Libyan television channel "Al-Masar" quoted the Interior Minister in the east as saying that more than 5,000 people have died.
The storm also hit other cities in the east of the country, including Benghazi, the second-largest Libyan city.
Tamer Ramadan, head of the International Federation of Red Cross and Red Crescent Societies mission, said that the death toll would be "huge."
In a post on the "X" platform, former UN aid official Martin Griffiths stated, "Emergency response teams are being mobilized to provide assistance on the ground."
While other countries rushed to provide assistance to Libya, supplying search and rescue vehicles, relief boats, generators, and food supplies, the residents of Derna rushed to their homes in search of their missing loved ones.