Maghreb
Dozens Killed in Severe Storm Sweeping Through Libya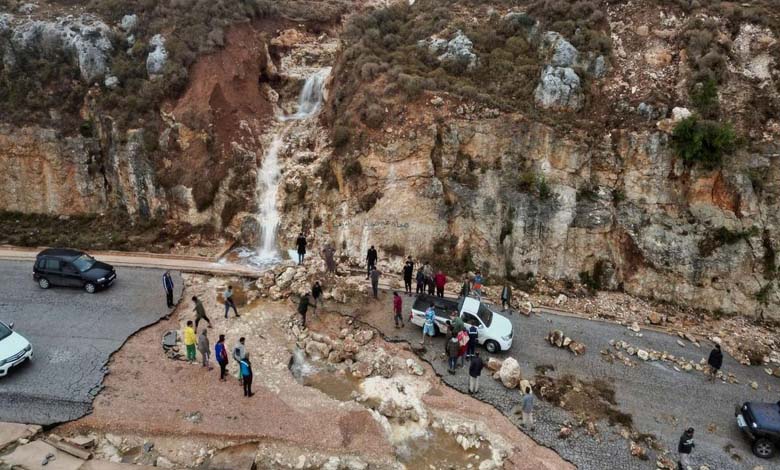 ---
Hurricane Daniel has turned into a powerful storm upon reaching Libya, leaving more than 150 dead and inundating neighborhoods in the west and east of the country. The unity government declared several areas disaster-stricken.
A powerful storm coming from the Mediterranean Sea swept through eastern Libya, causing damage to numerous homes and roads and claiming the lives of at least 150 people, according to government sources and witnesses.
Mohamed Masoud, the media advisor to the Prime Minister of the Unity Government, told Agence France-Presse, "At least 150 people were killed due to the floods and torrents left by Hurricane Daniel in Derna, the Green Mountain region, and the outskirts of Marj, in addition to the extensive material damage inflicted on public and private properties."
The rainfall led to significant water accumulation in the "Souq Al Jumaa and Ain Zara" neighborhoods, where many residents complained of the closure of some secondary roads.
The western mountainous regions also witnessed the flow of several valleys, including Wadi Al-Athl, which temporarily halted passenger traffic from the mountain areas to Tripoli.
Activists posted videos on social media on Monday showing water accumulation in some neighborhoods in the eastern part of the country. Shared footage depicted individuals standing on top of their cars while seeking assistance after being stranded due to the floods that inundated the cities of Benghazi, Sousse, Al-Bayda, Al-Marj, and Derna.
The Libyan National Channel shared on its Facebook page the material damage inflicted on many houses and public facilities following the heavy rainfall.
Authorities declared a state of extreme emergency, closed schools and shops, and imposed a curfew as the hurricane reached the mainland on Sunday and Monday.
The United Nations mission in Libya stated that it is closely monitoring the storm's developments and will provide "urgent relief assistance to support local and national response efforts."
The Libyan Ministry of Interior, in coordination with municipal mayors and security agencies, established an emergency room to address the expected weather fluctuations in Benghazi.
On Sunday, the Prime Minister of the Unity Government in Tripoli, Abdul Hamid Dbeibah, ordered all state agencies to "deal immediately" with the damage and torrents in the eastern cities.
Several neighborhoods in the Libyan capital, Tripoli, and cities in the western region have also experienced flooding due to heavy rains since Friday.
Engineers working in the oil sector told Reuters that four major Libyan oil ports, Ras Lanuf, Al-Zuweitina, Al-Brega, and Sidra, were closed as of Saturday for three days.
Arab artists expressed solidarity with Libya in the face of the natural disaster, including Nancy Ajram, Yara, Nassif Zeytoun, Rahma Riad, Elissa, Nawal El Zoghbi, Assala Nasri, and Hussein Al Jasmi, among others.
Lebanese artist Elissa tweeted on her official Twitter account, "All solidarity and love to the people of Libya after the natural disaster that has occurred. I wish a speedy recovery to the injured, and I pray for the souls of the victims and that God may grant their families patience."
Syrian artist Assala Nasri stated, "May God protect beloved Libya from all harm and heal its great people who endure beyond their capacity."
Emirati artist Hussein Al Jasmi wrote, "O Allah, have mercy on our people in Libya… Protect them with Your protection, be their aid and helper, O Lord of the worlds… All support to our people in Libya."