Europe
Germany Raids Offices of Hamburg Islamic Center Linked to Iran… Details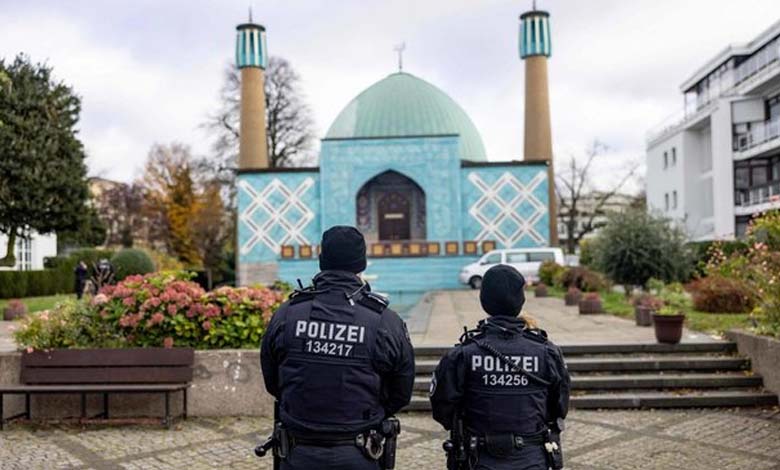 ---
Following its classification as an extremist organization, (500) police officers and investigators conducted raids on (54) properties in (7) German states related to the Islamic Center in Hamburg associated with Iran, suspecting it of engaging in activities "contrary to the legal system."
The German Interior Ministry stated that "the Islamic Center in Hamburg is suspected of engaging in activities contrary to the constitutional system and supporting Hezbollah in Lebanon." The German newspaper Bild quoted high-level police sources saying that "more than (500) police officers and state security investigators raided (58) buildings across Germany at 6 a.m. today."
Due to a judicial investigation, the raids aim to "secure evidence and confiscate assets of inspected associations."
This operation is the largest in Hamburg, where over (200) officers searched a total of (32) locations, including the headquarters of the Islamic Center in Hamburg, the Academy of Islam in Germany, and the Supporters Association of the Iranian Islamic Mosque in Hamburg – all reported to be Shia centers linked to Iran by domestic intelligence reports. At the headquarters of the Islamic Center in Hamburg, officials brought a 3D scanner to the buildings, indicating that the police want to measure one or more rooms precisely and create a digital map of them.
The technical unit of the Hamburg police, which owns heavy equipment used, for example, to open heavy doors or drill walls, also participated in the inspection of the Islamic Center.
In addition, the police also stormed the association (Salman Al-Farsi Mosque) in Langenhagen, Lower Saxony, the (Islamic Association in Bavaria) in Munich, and the (Islamic Community for Shia Communities in Germany) in Berlin.
In addition to Hamburg, Lower Saxony, Bavaria, and Berlin, the raid operations are currently taking place in the states of Hesse, North Rhine-Westphalia, and Baden-Württemberg.
Commenting on the raids, Interior Minister Nancy Faeser said, "The Islamic Center in Hamburg has long been under surveillance by the Federal Office for the Protection of the Constitution (domestic intelligence), and it has been classified as Islamist (political Islam)." Earlier this year, the Higher Administrative Court in Hamburg upheld the decision of the German intelligence and security agency that the Hamburg Islamic Center, affiliated with the Iranian regime, is an "extremist organization."
The court's decision stated that the classification of the "Islamic Center in Hamburg" as an "extremist Islamic organization" by the Ministry of Intelligence and Domestic Security cannot be contested and that the center seeks to achieve "Iran's goals opposed to the constitution."