Society
Halloween 2023: Real blood fills celebration theaters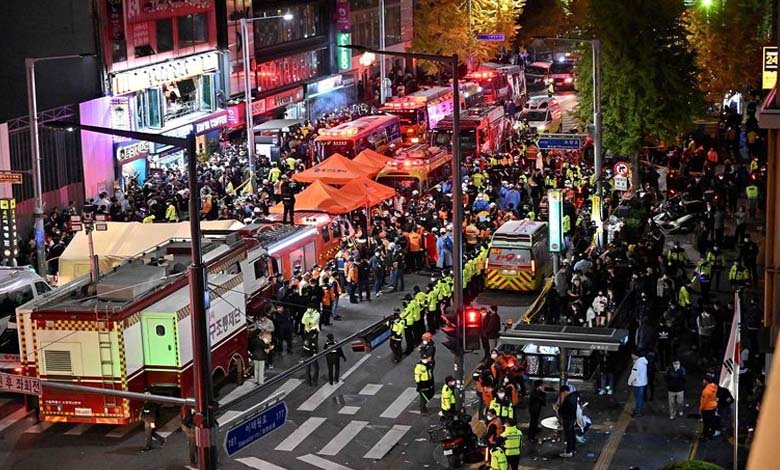 ---
Millions around the world celebrate "Halloween" on Tuesday amid a series of events that have turned fictional horror into a tragic reality in several cities.
Halloween falls on October 31st each year, an occasion to celebrate traditions that have lasted for over a thousand years. It features spooky rituals and activities centered around fear and phobias, such as dressing up in frightening costumes and decorating with ornaments bearing the spirits of ghosts and more.
Coinciding with the Halloween 2023 celebration, several tragic events occurred in various cities, especially in the United States, which were rocked by several fatal incidents over the weekend, starting from last Friday.
Blood and Violence in Halloween 2023 
The weekend in San Diego was filled with violence, leading to the deaths of teenagers and injuries to several others, along with the closure of a shopping center in South Bay.
Local media reported that six people were shot and killed in three separate incidents in San Diego over the weekend, according to authorities.
NBC 7 quoted the U.S. police as saying, "The suspects have not been identified in any of the shooting incidents, which witnessed the injury and death of at least three people and a dog in two separate stabbing incidents."
In another incident during Halloween, two teenagers were shot and killed at a holiday house party in one of El Cajon's neighborhoods on Sunday, as part of the Halloween celebrations.
The El Cajon Police said that it appears the two teenagers (18 and 16 years old) were targeted by the shooter, who left the scene on foot and then jumped into a nearby car, adding that the shooting appears to be gang-related. U.S. authorities revealed that shootings occurred across the United States during the Halloween weekend before Halloween, resulting in the deaths of at least 11 people and the injury of more than 70 others.
They said that the deaths from Friday to Sunday included two cases in Tampa, Florida, three in Texarkana, Texas, two in Dodge City, Kansas, San Antonio in Texas, and Mansfield, Ohio.
These incidents included brawls stemming from Halloween celebrations, including a mass shooting in the Ybor City district of Tampa early on Sunday, as bars were closed and dozens of people in costumes took to the streets before groups began fighting.
In Indianapolis, a shooting early on Sunday at a large party led to the death of a teenager and the injury of nine other teenagers, ranging in age from 16 to 21, according to the police.
In Chicago, the police said that at least 15 people were injured; two of them seriously, after a gunman opened fire on a crowd of people during an early Sunday Halloween party.
 And In Texas, five people were killed and six others were injured in two separate shooting incidents on Saturday night.
Meanwhile, the San Antonio Police said that a 13-year-old girl was injured, and her parents were killed after an exchange of gunfire at a Halloween house party.