Policy
Lebanon's President discusses Gulf crisis with the Emir of Qatar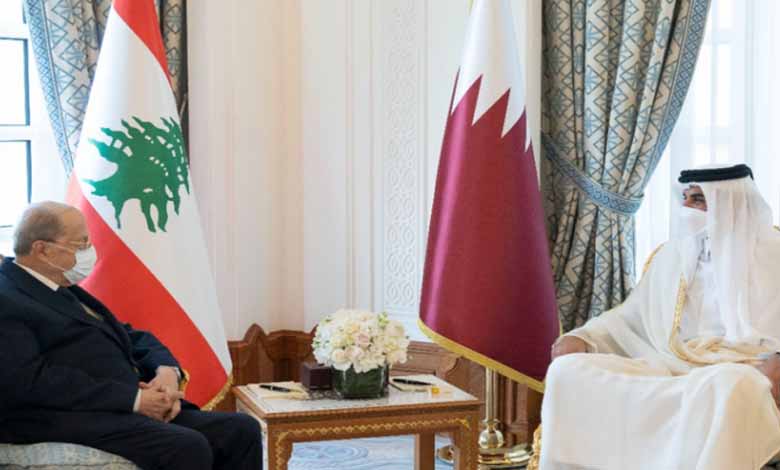 ---
"Lebanese President Michel Aoun made a dubious visit to Doha to meet with Qatari Emir Tamim bin Hamad, at a time when Lebanon is suffering from a Gulf and Arab boycott as a result of the domination of Beirut by the pro-Iranian Hezbollah".
The reasons for the meeting
Aoun's visit to Doha came days after a visit by Qatari Foreign Minister Mohammed ben Abderrahmane Al‑Thani to Beirut, aimed at saving Hezbollah and the government from the crisis they are currently experiencing, and any attempt to impose Qatar's hegemony on Lebanon, after the Gulf parties left the country.
Lebanese Minister of Information George Kordahi's statements sparked a major Gulf crisis due to his support for the Houthi militia and Hezbollah in statements he made on Al-Jazeera television. This led to the announcement by Saudi Arabia, the UAE, Bahrain and Kuwait to withdraw ambassadors from Beirut and expel Lebanese ambassadors from their territories; in protest against supporting Houthi terrorist operations targeting Saudi territory.
Qatar's decision
While the Gulf States and the Gulf Cooperation Council (GCC) announced that they had condemned Kordahi's statements, immediately demanded the formation of a new Lebanese government that respects Lebanon's sovereignty and rejects Iranian domination, Qatar refrained from supporting the Gulf camp.
Qatar preferred to support the Lebanese government, with the aim of supporting Hezbollah and ensuring its influence in Lebanon, in order to achieve Iran's will to make Lebanon a state under the sovereignty of the mullahs.
Sources states that Aoun asked Tamim to increase Qatari investments in Lebanon and support the Lebanese pound, in exchange for refraining from uncovering names of the Qatari ruling family that were previously involved in financing Hezbollah and secret networks to finance the activities of the Iranian Revolutionary Guard inside Lebanon.
Tamim pledges investment
For his part, Tamim confirmed during his meeting with Aoun that Qatar stands by Lebanon and is ready to help it in all fields, and that he will soon dispatch the Qatari Foreign Minister to provide support and assistance.
Aoun said: "We agreed that this stage requires Arab countries to stand by Lebanon and that we must overcome any imbalance in these relations".
Qatar funds Revolutionary Guard
Earlier, German newspaper Die Zeit revealed evidence implicating wealthy Qatari government officials and members of the ruling family in funding Hezbollah through a charity in Doha.
This was also confirmed by the American network Fox News, in a report on the involvement of Qatari officials, including Abdul Rahman bin Mohammed Suleiman Al-Khulaifi, the Qatari Ambassador in Belgium, who has supported the armed militias of Hezbollah since 2017, and has communicated directly with their leaders.