Policy
Gunmen prevent judges from appealing against Saif al-Islam's decision to exclude him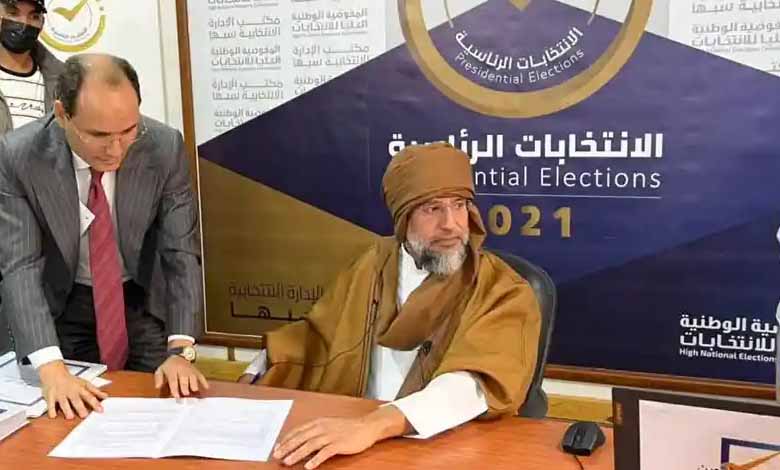 ---
Both the Libyan government and the United Nations expressed concern yesterday, after the renewed closure of the Sebha Court (south), to hinder the lawyers of Saif al-Islam Kadhafi from appealing the decision to drop his candidacy for the presidential elections.
The interim government said in a statement issued late Monday, Russia Today reported: "It is following with great concern the tensions around the Sebha Court, which obstructs the legitimacy of the judicial institution", it said, stressing that "threatening the lives of judges or attempting to influence their work threatens the return of civil war".
"Videos published by local media, which could not be verified by official sources, showed gunmen blocking access to the Sebha District Court, 650 kilometers southwest of Tripoli".
Similar incidents have been recorded before this court since Thursday; for the fifth consecutive day, the lawyer of the son of the late leader Mouammar Kadhafi was prevented from challenging his decision to drop his candidacy in the presidential elections, which are scheduled for December 24th.
Meanwhile, dozens of people, including supporters of Saif al-Islam Kadhafi, staged a protest in Sebha on Monday amid a tense atmosphere to condemn the "attack on the work of justice".
The UN Support Mission in Libya said in a statement on Monday: It "follows with grave concern the continued closure of the Sebha Court of Appeal" and "physically prevents judges from exercising their functions; this directly impedes the elections".
The Mission added that it was "concerned at the increasing reports of intimidation and threats against judges and justice officials, especially those dealing with election-related complaints".
The Independent High Electoral Commission announced last week the disqualification of 25 candidates for not complying with the provisions of the election law, foremost among them 49-year-old internationally wanted Saif al-Islam Kadhafi, who is being sentenced locally.