Society
The Folklore Café in Erbil: A Prominent Tourist Stop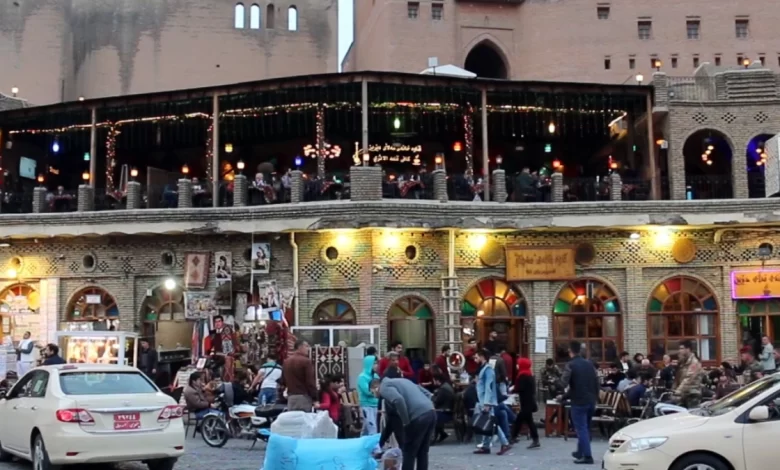 ---
The Folklore Café in the city of Erbil, in the Kurdistan region of Iraq, is considered one of the oldest cafes that has been established for almost a century. Over time, it has transformed into a prominent tourist spot that attracts many visitors and tourists who come to enjoy its unique heritage atmosphere and the meals it offers in the traditional manner that was prevalent in the city decades ago.
Located beneath the walls of its historic castle, Erbil hosts the ancient Folklore Café, which was founded 83 years ago. It has preserved its classic architectural design, as well as its old furniture and equipment, throughout the past decades.
Many of its long-standing patrons make an almost daily visit to relive their memories of the past, spending hours in an ambiance that momentarily transports them back to the stages of their lives. Nafie Khudair, one of the oldest patrons of the Folklore Café, says in an interview with Sky News Arabia: "I have many beautiful memories in this café that I experienced with my friends, intellectuals, and university professors during my youth. The ambiance is distinctive and unique in Erbil, and everything within it exudes the fragrance of the beautiful past. The pictures hung on the walls remind me of the great artists, intellectuals, and dignitaries we encountered during that wonderful phase of life."
Most tourists and visitors of the historic castle prefer to have their morning breakfast at this café, served in a traditional setting and in the manner that was prevalent in the old houses of Erbil.
Alia Jabbar, a visitor from Baghdad, adds: "I come to this restaurant every time I visit Erbil. It carries a beautiful atmosphere and memories, alongside the cleanliness of the place."
The café resembles a heritage museum due to the antique items and collectibles it houses, in addition to its library, which stores a collection of titles that disappeared from libraries decades ago.
In addition to being a destination that attracts tourists and visitors, this café has, over the past eight decades, become an integral part of Erbil's historic castle.