United States
Trump's Twitter Return.. Mask's Gift for the U.S. Presidential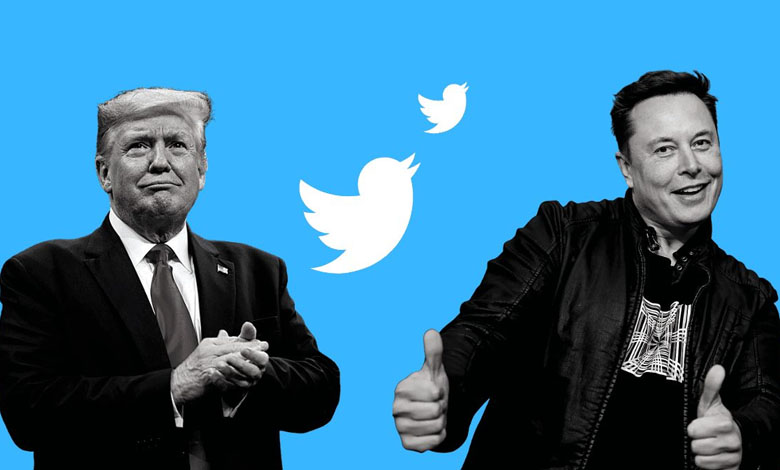 ---
American billionaire Elon Musk set the 2024 presidential election on fire by reactivating former President Donald Trump's Twitter account.
A reversal of the ban that has kept Trump off social media since supporters attacked the U.S. Capitol on January 6, 2021, with Congress about to endorse Joe Biden as president.
On Saturday evening, the Twitter-shares acquired the lion's share, a poll in which users of the global platform were asked to click "yes" or "no" on whether to restore Trump's account.
Indeed, Trump won the "yes" vote by 51.8 percent. Previously, Musk had pledged to create new procedures and a Content Amendment Board for Twitter before making decisions to restore suspended accounts.
Shortly thereafter, Trump's account, which had been pending, appeared again on the platform complete with its previous tweets, more than 59,000 of them.
Followers of the former president left at least initially, but soon began to reclaim them. However, there were no new tweets from the account as of late Saturday.
He simply reinstated Trump's account less than a month after Tesla's CEO took over Twitter and four days after Trump announced his candidacy for the 2024 presidential race.
Is Trump Back?
It is not clear whether Trump will actually return to Twitter, where the former president has said, in the past, that he will not rejoin even if he is recalculated.
Trump continued to rely on his social media site, Truth Social, which he launched after blocking it from Twitter.
Hours earlier, during a video address to a meeting of a Jewish group of Republicans in Las Vegas, Trump said he was aware of the Mask poll but saw "a lot of problems on Twitter."
"I heard I got a big vote to go back to Twitter too.. I don't see it because I don't see any reason to go back.. I may or may not succeed in the poll," she said, apparently referring to the recent internal unrest on Twitter.
The possibility of restoring Trump's presence on the platform remained open after Masks bought Twitter last month, an acquisition that sparked widespread fears that the billionaire's owner would allow the propagators of lies and misinformation to thrive on the site.
Musk has repeatedly expressed his belief that Twitter has become too restrictive for free speech. "The voice of the people is the voice of God", Mask tweeted after the Trump re-election.
Previously Trump was the most influential yet controversial Twitter user, with nearly 90 million followers, his tweets often roused the markets, defined the news cycle and led the agenda in Washington.
Days earlier, the former president announced that he would seek the Republican Party's presidential nomination in 2024, aiming to become the second U.S. president to be elected for two consecutive terms.