Maghreb
Analyst Reveals the Beneficiary Behind the Clashes in Tripoli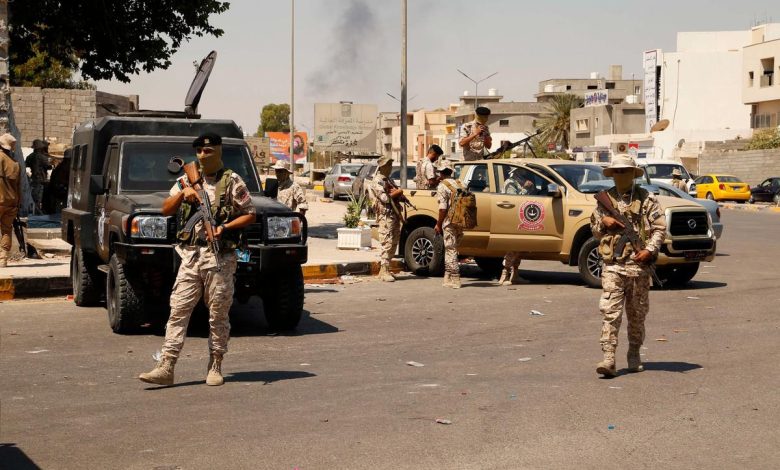 ---
An analyst has revealed the beneficiary behind the clashes in Tripoli. The Libyan political scene continues to witness numerous events or transformations that remain merely superficial and do not impact the volatile situations in any way. A noteworthy recent development in the Libyan political scene is the downfall of Khalid al-Mishri, one of the faces of the Muslim Brotherhood that persisted for years. He lost his position in the Sovereign Council to Dr. Mohamed al-Tekali.
Intense Clashes
Over the past two days, the Libyan capital Tripoli has witnessed intense armed clashes due to the arrest of Mahmoud Hamza, the commander of the Deterrence Force and the Judicial Police of Brigade 444. This has resulted in the deaths and injuries of dozens.
Critical Stage
UN Secretary-General Antonio Guterres affirmed that the political process in Libya has reached a critical stage, and it has become imperative for all parties to demonstrate their commitment to holding the postponed elections since December 24, 2021.
Guterres highlighted in a report on the Libyan situation that he is aware of the efforts being made by the 6+6 Committee to draft legislation that will lead to the conduct of presidential and parliamentary elections as soon as possible.
Crisis Resolution
Abdel Sattar Hatita, a specialist in Libyan affairs, said, "It is necessary for the Libyan people themselves to take control of their affairs in order to resolve the crisis in Libya." He added that the Libyan people must participate in free and democratic elections characterized by credibility, and the time has come for their leaders to listen to them.
He further stated, "The clashes in Tripoli have proven the weakness, fragility, and incapacity of the outgoing government of Abdul Hamid Dbeibeh in the face of these armed groups. These groups were supported financially and militarily and were granted legitimacy under various names. The purpose was to protect Dbeibeh and his corrupt group from any popular movement or from areas neighboring the capital that have openly expressed dissatisfaction with the events in Tripoli. However, the tables turned, and Dbeibeh appeared helpless and unable to quell the armed clashes. He pleaded with militants to cease fighting and implored dignitaries to intervene to end the clashes."
He pointed out that the biggest beneficiary of this chaos is the armed militias that control state institutions in the capital. These militias will not easily give up their gains. He noted that they might drag Tripoli into a sea of blood. Dbeibeh and his government, immersed in corruption and squandering the livelihoods of Libyans, have legitimized and supported these militias. They are the primary beneficiaries of these bloody events.