Policy
Egypt and the United Arab Emirates: The key to Derna's return to life
Egypt and the United Arab Emirates hold the key to Derna's return to life in Libya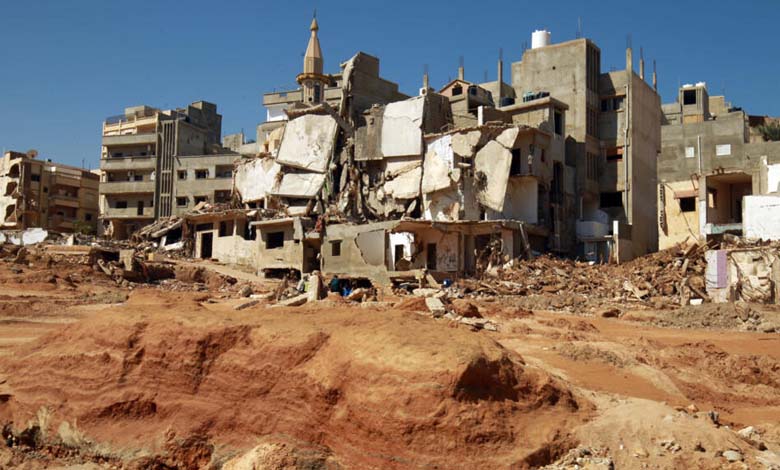 The phase of recovery and struggle has begun following the devastating floods, with the residents of Derna setting aside their grief and pain over their losses. Their homes, properties, and loved ones existed just three weeks ago, and now horrifying scenes of destruction surround the afflicted city.
The Return
According to the international network "NPR," the heart of the city has completely disappeared. There are no landmarks or homes left; only debris and destroyed cars remain. It seems as though a massive shell was dropped on the city, obliterating it within seconds. Yet, with the resilience of Derna's remaining residents, the city will not die; it will rise again.
The network reports that when seeing the city, it's hard to believe that life once thrived there. Thousands are still missing, chaos is everywhere, and more than 40,000 people have been displaced. Some areas in the devastated city have become deserted, and many fear going there, even in daylight.
It is noted that Russia, Egypt, and the United Arab Emirates were the most responsive and swift in providing assistance. Egypt and the UAE continue to offer all forms of support to the affected, aiming to stabilize eastern Libya. These two nations may hold the key to reviving Derna, as they continue to provide substantial aid, whether in material or logistical form, through the Red Crescent, charities, and the Egyptian army.
The agency points out that Libya witnessed a record and catastrophic humanitarian disaster. The extremely powerful storm, exacerbated by climate changes, intensified with the collapse of dams.
A senior United Nations official in Libya described how thousands in the North African nation have "lost everything" after the floods hit Derna. Heavy rains caused by Storm Daniel crossed the Mediterranean earlier this month, striking Greece, Turkey, and Bulgaria, followed by the catastrophe in Derna, a city of approximately 100,000 people on Libya's Mediterranean coast.
Death and destruction
The British newspaper "Metro" affirms that water has brought death and destruction to Libya, with massive floodwaters sweeping thousands into the Mediterranean Sea, according to Rana Qesaifi, assistant head of the United Nations High Commissioner for Refugees mission in Libya.
She says, "What I saw in Derna was unlike anything I've seen in 19 years of humanitarian work. I've worked in many conflict-torn and devastated countries." She added, "I saw roads split in half, massive rocks falling from nearby mountains, completely destroyed and submerged houses."
The United Nations states that with entire neighborhoods destroyed, the death toll has risen to nearly 4,000 people, but it is likely much higher. More than 9,000 people remain missing.
For Qesaifi, the prevailing mood on the ground is "destruction and devastation," adding, "The people we meet and assist have lost everything: their homes, livelihoods, communities, and, not least of all, their loved ones. They are dealing with a great deal of loss and pain."
She continued, "The shock is still evident on their faces because the unimaginable ordeal they've been through has taken a toll on their mental health."
While the military urged people to evacuate Derna, some chose to stay and search for their missing family members.
The International Organization for Migration, a United Nations agency, says that at least 43,000 people have been displaced due to the storm.
The International Organization for Migration said, "A lack of water supplies is driving many displaced people out of Derna to eastern and western municipalities."
Qesaifi notes that those who have left their homes are forced to "survive in new and unfamiliar environments with very little."
She adds, "At the moment, it seems like people are trying to comprehend the consequences and focus on reuniting with their families, finding their missing loved ones, or burying their dead. It will take some time for a sense of normalcy to return to their daily lives."
Qesaifi says that approximately 10,000 patients at Derna's field hospital received essential medications last weekend. Tents were set up over two generators to assist in providing treatment.
The Threat of epidemics
United Nations officials warn that a "second devastating crisis" is looming over Libya if enough is not done to aid those affected by the floods and diseases.
Libya's disease control center states that its teams are sweeping water bodies for "disease-carrying insects" as concerns grow about contaminated water.
Officials advise people to drink bottled water instead of tap water, but obtaining relief is easier said than done. Following the Arab Spring revolution that ousted Muammar Gaddafi, Libya split between rival rulers.
A new threat
The British newspaper confirms that, according to Libyans' accounts, many residents of coastal areas now fear flood risks with rising sea levels. Towns are often built along dry riverbeds that become inundated with water.
The World Meteorological Organization warns that if the country's national meteorological service were able to issue a warning, emergency responders could carry out mass evacuations and save countless lives.
Qesaifi states, "A combination of conflict and a lack of social protection infrastructure leaves the country extremely vulnerable to harsh climate events."
The Intergovernmental Panel on Climate Change notes that while climate change may mean fewer storms in the Mediterranean region in the future, they will become more intense.