Policy
Hamidti Calls on People of Eastern Sudan to Unite, Reject Tribalism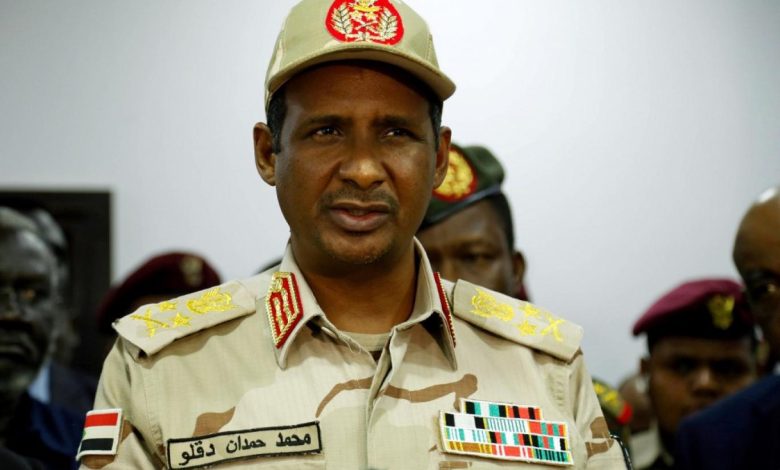 ---
Mohammed Hamdan "Hamidti", Deputy Chairman of the Transitional Sovereignty Council of Eastern Sudan, called on the people of Eastern Sudan to unite and reject racism, tribalism, and division. 
"Hamidti" called on the people of Eastern Sudan during his address to a crowd in the state of Kassala on Saturday, to be one hand for the interest of the East and Sudan, according to the Sudanese News Agency "Suna". 
The governor of Kassala, Khojali Hamad said that the visit of the Deputy Chairman of the Sovereignty Council to the state to participate in the funeral of the mayor Ahmad Hamid Aqaba confirms the man's position as one of the intelligent local administrations. 
In turn, the general director of the people, Ibrahim Dagloul, expressed his gratitude and appreciation for Hamidti's visit, stressing that they support the stability of Sudan, its unity, and its land. 
And a member of the organizing committee, Mokhtar Hassan, emphasized that they are with the unity of the Sudanese people, and with everything that preserves its security and stability, adding that we are one society, diverse, and we are callers for unity and peaceful coexistence. 
The Deputy Chairman of the Sovereignty Council arrived in the state of Kassala earlier today on Saturday, to attend the funeral of Mayor Ahmad Hamid Aqaba, who died in an accident. 
And upon his arrival, he held a meeting with the security committee of the state, headed by the Governor of the state of Kassala, to discuss the situation and developments in the state, and the measures taken to preserve security and stability.
In a related context, the head of the United Nations Mission to Support the Transitional Process in Sudan (UNITAMS), Volker Perthes, said that the political process in Sudan is moving slowly, but on the right track. He expressed his optimism that it will inevitably lead to the formation of a civilian government and a transitional phase ending with democratic elections. 
In an interview published earlier on the UN website, Peretz added that acceptance of the framework agreement is "growing more and more", explaining that "an increasing number of political and civil powers have contacted us in recent weeks and said they will sign this agreement."
Last December, the Sudanese army reached an agreement with some civilian leaders called the "Framework Agreement", which includes the parties' participation in broad consultations to resolve five issues, namely "the issue of justice, transitional justice," the "Peace Agreement concluded in Juba," along with "the restructuring and reform of the security system," in addition to "the disempowerment and recovery of funds from the regime of former President Omar Al-Bashir, as well as the issue of eastern Sudan."