Exclusive
Iranian warnings to Israel: Is Tehran intervening in the current war?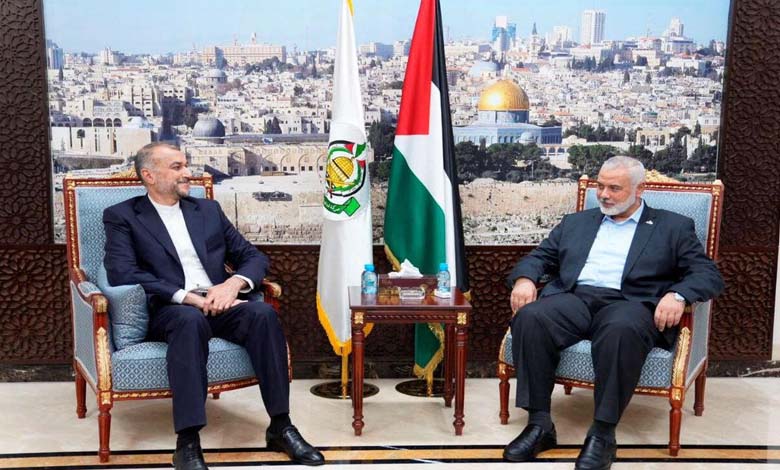 ---
Iranian Foreign Minister Hussein Amir Abdollahian met with the head of the political bureau of Hamas, Ismail Haniyeh, yesterday in the Qatari capital, Doha. International media outlets have reported Iranian statements to the United Nations, indicating that if the war in Gaza continues, Iran may have to intervene.
A video released by the official Iranian news agency (IRNA) showed Haniyeh's meeting with Abdollahian late on Saturday evening, where the two discussed the latest developments in Palestinian territories.
In a statement broadcast by Al-Aqsa channel, Hamas mentioned that Ismail Haniyeh discussed the motivations behind the "Storm Al-Aqsa" operation with Abdollahian. Abdollahian also presented the results of his regional and international contacts. The statement emphasized the continuous cooperation of both parties to achieve the goals of resistance and the Palestinian people.
According to the statement, Iran's Foreign Minister praised the attack, describing it as a "historical victory" and noting that it marks a serious setback for the occupation and its project in Palestine and the region.
In a related context, Iran warned of "far-reaching consequences" if Israel does not stop its war on Gaza and hinted at potential intervention if the conflict continues, according to sources cited by Axios news.
Iran communicated to Israel, through the United Nations, that it does not want further escalation in the war on Gaza and that it may have to intervene if the conflict persists.
The Iranian permanent mission to the United Nations cautioned that if war crimes and genocide committed by the apartheid regime are not halted, the situation may spiral out of control, leading to far-reaching consequences.
In a social media post, the Iranian permanent mission to the United Nations stated that the responsibility lies with the United Nations, the Security Council, and the countries leading the council down a dead-end path, as expressed by them.
This comes as the Israeli war on Gaza enters its ninth day, with Israel continuing relentless airstrikes on the Gaza Strip. This has resulted in the deaths of more than 1,230 Palestinians and more than 8,700 injuries. Meanwhile, Palestinian resistance has killed more than 1,300 Israelis since the start of the "Storm Al-Aqsa" operation.