Middle east
The families of the hostages: Netanyahu chose to abandon the prisoners as a strategy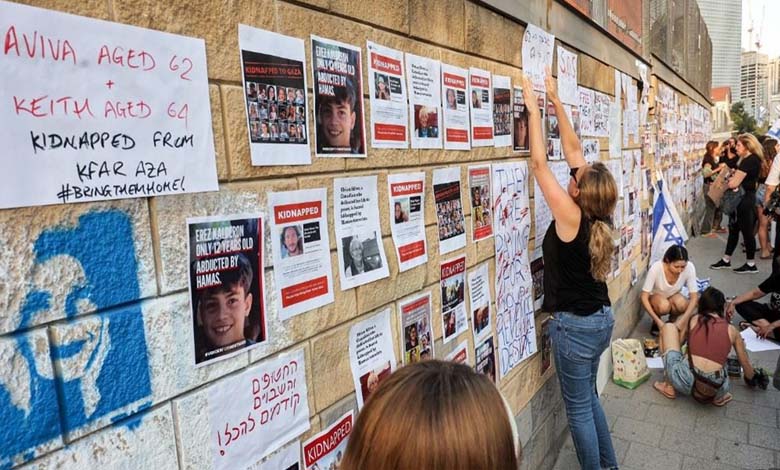 ---
Israel has not indicated any negotiation channel for the release of the prisoners held by Hamas in Gaza and has simply appointed a reference for the families, who is engulfed in a corruption case.
Anger is escalating among the families of Israeli hostages after dozens were abducted by the Palestinian movement Hamas, with no information about their fate and no official negotiation channel.
A week after the uncertainty, the government identified the identities of 120 hostages, including civilians, Israeli soldiers, and foreigners. However, it is likely that 150 adults, children, and infants have been transferred to Palestinian territories without knowing whether they are alive or dead.
The families are appealing to "any person, organization, or country" that can help them release their relatives, relying on videos or phone calls to prove that they are alive.
During a press conference, Yifat Zailer, the aunt of Kfir (9 months) and Ariel Pibes (4 years), who were abducted with their mother Shir, said, "They are innocent civilians with rights, and Turkey and Egypt must be pressured so that the Red Cross can visit them."
She continued, tears in her eyes, "We have to bring them back to their homeland alive. They were kidnapped alive, and they must remain alive."
For days, the Israeli army has been bombarding the Gaza Strip in response to an attack launched by Hamas on October 7. The airstrikes have resulted in over 2,300 casualties on the Palestinian side, mostly civilians, including more than 700 children, according to local authorities.
Hamas' armed wing claimed that at least five Israelis and four foreigners were being held as hostages in Gaza, and they were killed in Israeli airstrikes in the past 24 hours, stating that 22 had been killed since last Saturday, without confirmation from another source.
On Saturday, the Israeli army announced that it had found "bodies" during a raid.
Colonel Peter Lerner, the army's spokesperson, told reporters, "We have identified an area in Gaza where the bodies of some of the Israelis who were abducted are located, and we found them."
As of now, Israel has not referred to any negotiation channel, but it has appointed "a reference" for the families, General Gal Hirsch, who is retired and facing corruption charges, which have raised criticism.
Tzahi Hanegbi, the National Security Adviser for the Israeli government, said on Saturday, "We do not negotiate with an enemy we vowed to eradicate from the face of the earth."
For Ronen Tzur, the spokesperson for the families, this means that "the Israeli government has chosen to abandon the prisoners and the missing as a strategy."
Relatives of the hostages met on Saturday as part of the "Hostages and Missing Forum," an organization aiming to pressure the Israeli government and the international community for their release.
Around a hundred law firms have also taken action, allocating eight departments for "diplomatic negotiations" and "receiving families," and for social media platforms and collecting donations.
Behind the main headquarters in the center of Tel Aviv stands a businessman who prefers to remain anonymous, transitioning from a "phone call with a Vatican consultant" to ordering pizza for volunteers.
The fifty-year-old, also a reserve officer, said, "Last Saturday, when I understood what was happening (with the hostages), I immediately thought for the first time that I wouldn't engage in this war with a military uniform but through my contacts."
The forum is in contact with international organizations such as the International Committee of the Red Cross, asking them to negotiate access for humanitarian aid and visitation rights for the hostages.
Former Israeli Ambassador to France Daniel Shek said, "We have formed this team of about twenty former diplomats, but behind us are circles that bring together all the countries of the world." He added, "We are here to provide our expertise, ideas, and contacts in service of this significant civil society project, which is supporting the families."
While some citizens criticize the authorities strongly after the historic security setback that Israel suffered, the diplomat confirms that this parallel channel "does not replace the government's work."
Israeli volunteers are packing relief packages and verifying data of the missing in a convention center in Tel Aviv, after Israeli protests shifted their focus from demonstrating against the government to relief efforts following last week's attack by Hamas.
For 39 consecutive weeks, opponents of the controversial judicial reform conducted by the right-wing government in Israel led tens of thousands of people to the streets, forming the largest protest movement in Israel's history.
However, immediately after the attack on southern Israeli settlements, activists mobilized to help those affected, providing emergency aid to evacuated people and those stranded, even helping to identify the locations of victims and hostages in the besieged Gaza Strip.
Ami Dror, a 50-year-old who works as an executive in the technology sector, emerged as a prominent leader of the protests since Prime Minister Benjamin Netanyahu's government unveiled its judicial reform agenda in January, saying, "Civil society organizations… support anything that our government is failing to support."
He added, "We warned this government, which did everything it could to ignore its citizens. And that's what we're seeing now."
In one of the halls, hundreds of volunteers with technical expertise are using advanced tools to verify the identities of people believed to be among the abducted.
Dana Gath, a 33-year-old blogger living in northern Israel, said when she heard the "horrific news" about the Saturday attack, she didn't know what to do and began sharing photos of the missing people on social media to try to reunite families.
Since then, Gath said she has received countless requests for help and used her social media presence to raise funds and connect volunteers with those in need.
She explained, "Many requests came from soldiers, but I'm just a blogger. It's the government's job."
Yshai Pulvermacher, a spokesman for the "Brothers in Arms" protest group for reserve soldiers in the army, said, "We, as a group of former reserve soldiers, have 'bloody hands.'" He continued, "I genuinely hope we won't need just one demonstration."