Exclusive
Sudan… The war government issues passports from Port Sudan
---
The Sudanese embassy in the Kingdom of Saudi Arabia, Riyadh, has announced the arrival of the first batch of new passports issued by the embassy during October 2023. The total number of passports in this batch is 3,383. These passports were manufactured in Port Sudan.
According to the embassy's announcement, passport distribution will begin on Wednesday, October 25, 2023. Passport holders can collect their passports in person or delegate someone to do so through the Najiz app, a power of attorney, or by meeting with the Director of Passports and Civil Registry at the embassy, along with presenting the receipt of collection and the previous passport.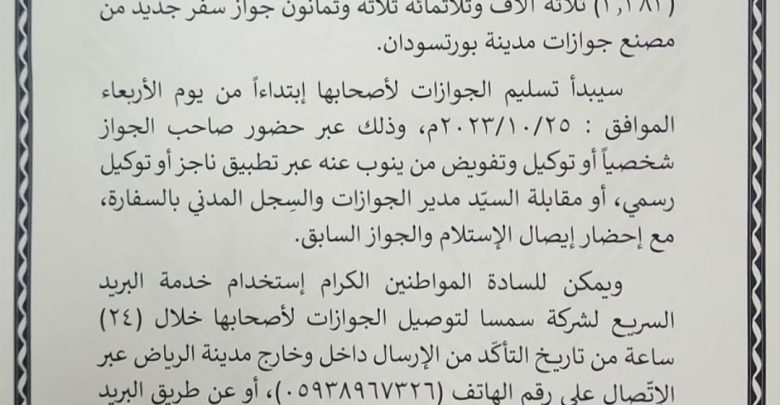 The embassy, represented by the Acting Chargé d'Affaires, Mohanad Omar Abbas Ajabna, mentioned that the express mail service provided by SMSA can be used for the delivery of passports to their owners within 24 hours of confirmation of dispatch, both within and outside Riyadh. This service can be accessed by calling the phone number 05938967326 or via email at [email protected], after sending a copy of the receipt of collection and a copy of the previous passport or the national ID for newborn passports.
The issuance of passports by the war government
The issuance of passports by a war government associated with the Muslim Brotherhood in Sudan is a matter of great concern at this time. It adds to the general anxiety regarding political and security stability in the country. This movement contributes to turmoil and raises questions about the legality and international recognition of these passports.
Warnings advise against dealing with these passports at the moment. The international community and citizens are encouraged to exercise caution and not recognize documents issued by this unofficial government. It is important that the transition to a democratically elected government becomes a priority for safety and stability in Sudan, with a focus on achieving balance and inclusivity in this process.
The illegitimate Muslim Brotherhood war government 
The illegitimate government of the Muslim Brotherhood in Sudan appears to disregard the interests of Sudanese citizens within the country, as its primary focus is on Sudanese citizens abroad. This approach has had a negative impact on the situation in Port Sudan and other regions in the country. Instead of addressing the urgent needs of local citizens and solving their problems, the current government prefers to focus on Sudanese expatriates. This approach has led to anger and protests in the interior regions, where the population suffers from a lack of services, high unemployment rates, and a deteriorating economic situation.
The consequences of this approach are evident in Port Sudan, the major coastal city, where there is a lack of infrastructure and basic services. Citizens are under increasing pressure due to mismanagement and government neglect. The deteriorating situation affects people's daily lives and hinders economic growth and social stability.