Society
Sydney: A spectacular fire wreaks havoc on a seven-story building!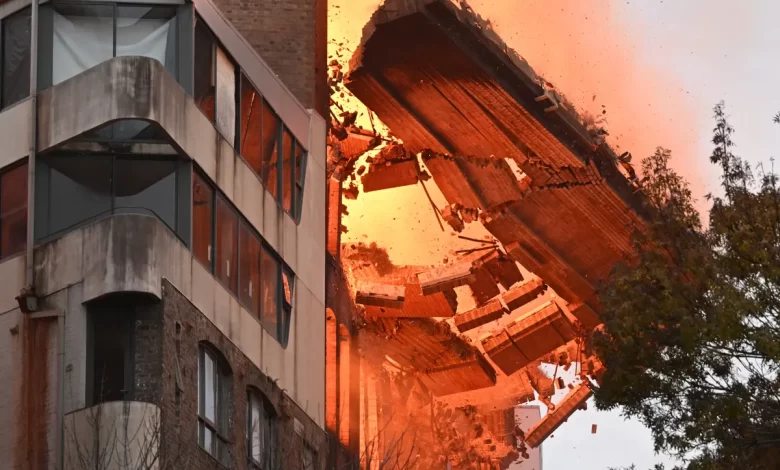 ---
More than a hundred firefighters battled a spectacular fire in the center of Sydney on Thursday in an unoccupied building (a former hat factory) near the Central Station.
The wall on the top floor of the building crashed to the floor. The material damage is significant but no human casualties are to be deplored.
A real blaze. More than 100 firefighters are trying to extinguish a massive fire in a seven-story building in Sydney, Australia, on Thursday, May 25, 2023, that completely destroyed a seven-story building and threatened nearby residential buildings, AFP reported.
"We all evacuated"
After two hours of effort, the fire brigade was on its way to overcoming the disaster in an unoccupied building near the central station. At the height of the fire, flames nearly as high as the building were rising in the sky, accompanied by thick smoke. The top-floor wall of the building crashed to the ground, not far from a burned-out van, according to a video shared by emergency responders.
On Thursday morning, a witness told Daily Mail Australia, "We have all evacuated. The smoke turned to fire so quickly. It was an empty building, we think." Although vacant according to some witnesses, other residents say it would serve as a squat for homeless people.
A hundred firefighters mobilized
"More than 100 firefighters, on 20 trucks and from multiple barracks, continue their work to extinguish the fire," the emergency services said in a statement issued after nightfall, AFP reports, adding that two nearby buildings, apparently vacant, were also affected by the disaster according to the fire service.
Apart from one firefighter who was slightly injured in the response, the response did not report any injuries among the population, who had been "asked to avoid the area while the fire-fighting operations continue". According to local media, the building destroyed by the flames was a listed building, an old hat factory. Relief efforts are expected to continue late at night, they said.