Policy
Contrary to his club's position… American basketball star surprises fans with 'Palestinian Kufiyah' (Video)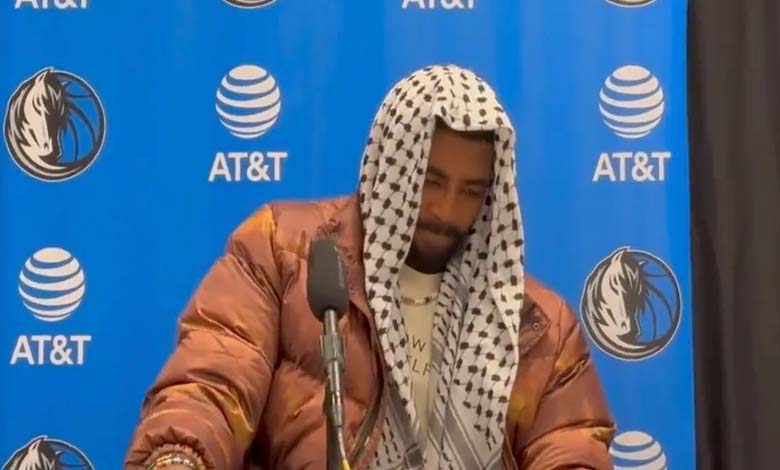 ---
As an expression of solidarity with the people of Gaza in the aftermath of the aggression launched by the Israeli army on the sector since October 7, Dallas Mavericks star, American Kyrie Irving, appeared wearing the Palestinian Kufiyah at the press conference after his team's match against the Milwaukee Bucks in the NBA.
Irving only lifted the Kufiyah after the press conference, where he spoke about the details of the Sunday dawn match. Although he did not say anything about Palestine, his wearing of the famous Kufiyah, representing authentic Palestinian heritage, was understood as a condemnation of the crimes committed by the Israeli army in the besieged sector for (46) days.
It is worth noting that the Mavericks are one of the first league teams to show support for Israel since the start of the war with hamas .
The match ended with Milwaukee winning by (7) points, with a score of (132-125), and Irving scored (39) points with (6) assists.
Irving expressed his solidarity with Palestine on October 11, posting on the (X) platform: "Where are you, presidents and journalists who speak loudly, and those who appear on television screens and social media platforms, to condemn those who stand by the oppressed?" He added: "Crimes against humanity are being committed, and most of you are silent… Has the cat got your tongues? Or are you afraid to defend what is real?"
As Israeli bombardment of civilians in Gaza continues, messages of support and solidarity with the Palestinian people from Arab and international sports and football stars continue.
French football star Karim Benzema was one of the prominent supporters of the Palestinians, announcing his solidarity with Gaza after the Israeli aggression, and its views exceeded (3) million views, while the number of likes reached (119) thousand in its first hours.
German football star and former Real Madrid player Mesut Ozil continued his support for the Palestinian cause and wrote on his official (X) account: "Prayer for humanity, prayer for peace and the innocent, especially children, as they lose their lives in the war on both sides… It is extremely tragic and sad."
Meanwhile, American basketball legend Ray Allen supported Palestine through his (Instagram) account, where he reposted a video clip that illustrates the lies of the American media about the reality of what is happening in the Gaza Strip.
Egyptian bodybuilding champion Ramy Elssbiay, known as Big Ramy, and crowned with the title of Mr. Olympia in 2020 and 2021, announced his solidarity with Gaza and the Palestinian cause in a post titled "Gaza, Dignity, and Palestine, Defiance" on his official (Instagram) account.
British Olympic boxing champion Amir Khan posted a poignant message on his (X) account, saying: "While the world watches what is happening in Palestine, I see many of my colleagues and friends silent… Why?" He explained that some are afraid of supporting Palestine and warned that the world will remember those who spoke and those who remained silent, ending with the Quranic verse: "Whoever kills a soul, unless for a soul, or for corruption in the land, it is as if he had slain mankind altogether, and whoever saves one, it is as if he had saved mankind altogether."