Middle east
Hamas vows to pursue the Israeli army from street to street in Gaza 
Abu Obaida confirms that the Qassam Brigades have prepared themselves for a long-term battle, stating that Netanyahu is searching for illusions at Al-Shifa Hospital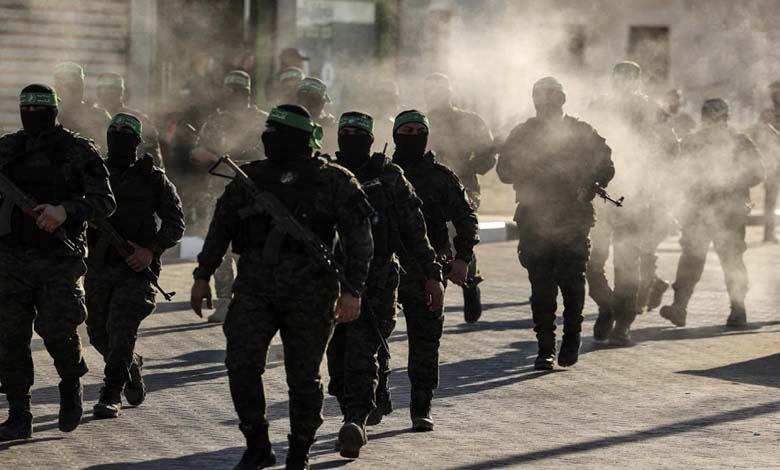 ---
Abu Obaida, the spokesperson for the Qassam Brigades, the military wing of Hamas, stated in a recorded speech on Friday that what Israeli Prime Minister Benjamin Netanyahu and his leadership are searching for at Al-Shifa Medical Complex in Gaza is "ridiculous and a search for illusions." He vowed to pursue the Israeli army from street to street.
He added that "what Netanyahu and the war leadership are looking for in Al-Shifa Complex and Gaza hospitals is ridiculous because they are searching for an illusion indicating their helplessness and hollow arrogance." He pointed out that "the enemy's (Israeli) tanks entering a medical complex (Al-Shifa) to showcase force and control is the biggest evidence of their failure and defeat, and it is a disgrace to the entire international system of human rights and international law."
On Wednesday, Israeli forces stormed the Al-Shifa Medical Complex, but they could not find what they accused Hamas of, prompting them to claim that the evidence had been "hidden."
Abu Obaida further stated that "the occupation (Israeli) continues its violations and perpetrates its crimes against children and civilians," confirming that the Qassam fighters "have prepared themselves for a long defense." He continued, "Every moment the occupation spends in Gaza exacerbates its losses," announcing that the Qassam Brigades had destroyed 62 military vehicles of the Israeli army in the past four days.
He also mentioned that fighters had "destroyed two military vehicles and a fortified position where enemy soldiers were stationed, capturing at least 9 Israeli soldiers".
He continued, "Our fighters managed on Thursday to destroy a position where special forces were holed up in Beit Hanoun and succeeded in engaging all the occupying soldiers stationed in the building".
He clarified, "Our fighters are still pursuing the enemy forces and their vehicles from street to street, flanking them, delivering deadly blows, forcing them to retreat in some axes, and constantly changing their movement paths."
Abu Obaida reported that the artillery of the Qassam Brigades "targeted sites in the occupied cities, notably Tel Aviv and Ashkelon, with rocket barrages".
Addressing Israel, Abu Obaida said, "Your dead soldiers in the field are much more than you expect. We inform you (Israelis) that your leadership seems to have decided to make the fate of your captives loss and disappearance," adding that the Qassam Brigades offered to complete a prisoner exchange deal since the beginning of the battle "to resolve this humanitarian issue".
He continued, "We tried and struggled to preserve the lives of your captives. Sometimes we succeeded, and other times we did not succeed due to the brutal bombing by your army".
The intense fighting continues in Gaza, where Israel issued a new warning to Palestinians in the city of Khan Yunis in the southern sector, urging them to head west away from the line of fire and to be close to humanitarian aid. This is the latest indication that Israel plans to attack Hamas in the south after gaining control in the north.
Mark Regev, one of Israeli Prime Minister Benjamin Netanyahu's aides, told MSNBC on Friday, "We ask people to move. I know it's not easy for many of them, but we don't want civilians to be in the line of fire".
Such a move is likely to force hundreds of thousands of Palestinians who headed south to escape the Israeli assault on Gaza City to move again, alongside the residents of the southern city of Khan Yunis, exacerbating the serious humanitarian crisis. The population of Khan Yunis is over 400,000.
Israel has pledged to eliminate the Hamas movement, which has controlled Gaza since its militants killed 1,200 people and took 240 hostages in an attack on October 7, according to Israeli statistics.
Since then, Israel has been shelling most parts of Gaza and striking it heavily. It ordered the complete evacuation of the entire northern sector of the strip, leading to the displacement of approximately two-thirds of the 2.3 million inhabitants. Many of those who fled fear that their displacement will become permanent. On Friday, the health authorities in Gaza announced an increase in the death toll to over 12,000 people, including 5,000 children. 
The United Nations considers these figures reliable, although they are not regularly updated due to the difficulty of collecting information and frequent communication disruptions. Israel dropped leaflets on Thursday night in the eastern areas of Khan Yunis, urging residents to evacuate to shelters, indicating that military operations there are imminent. 
The Palestinian news agency (WAFA) reported that around 26 Palestinians, mostly children, were killed in an Israeli airstrike on the city of Khan Yunis in the southern Gaza Strip early on Saturday morning. 
Regev stated that Israeli forces would need to advance into the city to remove Hamas fighters from underground tunnels and hideouts, but such "massive infrastructure" is not present in less developed areas in the West. He continued, "I am absolutely sure that they will not be forced to move again if they move west… We are asking them to move to an area where we hope there are tents and a field hospital". He added that due to the proximity of the western areas to the Rafah border crossing with Egypt, humanitarian aid could be delivered "as quickly as possible".
As the war enters its seventh week, there is no sign of any retreat despite international calls for a ceasefire or at least a humanitarian truce. 
The Palestinian Red Crescent ambulance service reported that at least five Palestinians were killed and two others injured in an Israeli shelling of a building in the Balata refugee camp in the occupied West Bank. Amid warnings that the blockade would lead to famine and disease, Israel seemingly yielded to international pressure on Friday, agreeing to allow fuel trucks into Gaza and promising "no restrictions" on aid requested by the United Nations. Israel said it would allow two fuel-laden trucks daily at the request of Washington to assist the United Nations in meeting basic needs and discussed plans to increase aid on a larger scale. 
Colonel Elad Goren from the Defense Ministry's administrative affairs office, which coordinates administrative issues with the Palestinians, said in a press conference, "We will increase the capacity of convoys and humanitarian trucks whenever needed".
While Israel has promised to allow aid in the past, these statements appear to indicate a shift in tone after United Nations agencies warned that the humanitarian conditions in Gaza are rapidly deteriorating, including a stark warning from the World Food Programme of an "imminent risk of famine". 
The White House said in a post on the former Twitter platform, now known as "X", that it is "pleased" with Israel's approval to allow fuel shipments and that these shipments should "continue regularly and in larger quantities".
At Al-Shifa Hospital, the largest hospital in Gaza, which became the focus of international concern this week when it became the main target of the Israeli ground offensive, Israel said its forces found a vehicle with a large number of weapons and an underground structure it claimed was an entrance to a Hamas tunnel, after two days of inspecting the building.
The Israeli army published a video clip of what it claimed to be the entrance of a tunnel in an exposed area of the Al-Shifa Medical Complex, where concrete, wood debris, and sand were scattered. The area appears to have been excavated, with a bulldozer visible in the background. Israel has consistently asserted that the hospital is located above a large underground hideout containing a command center for Hamas. Hospital staff insist that this is untrue, and Israel's findings have not yet substantiated any such claims.
Hamas denies using hospitals for military purposes and states that some hostages received treatment at medical centers but were not detained inside.
Employees of Al-Shifa Hospital reported the death of a malnourished child on Friday, the first child to die there in two days since the entry of Israeli forces. Three malnourished children had died in the preceding days while the hospital was under siege.
Hamas also announced the death of another prisoner, an 85-year-old, claiming he died from a panic attack during an airstrike.
In the town of Modiin in Israel, the family held a funeral for Israeli army recruit Noya Marziano (19), whose body was found in Gaza near Al-Shifa Hospital on Thursday. She had been abducted from a military base in a Hamas attack on October 7th.
The army also reported finding the body of Yehudit Weiss (65), a mother of five taken by Palestinian militants from the Biri settlement.
Russian news agencies cited the Russian Emergency Ministry stating that 170 Russian citizens crossed from Gaza to Egypt on Friday, part of a group of around 200 people.