Exclusive
Erasing Cultural Identity: Sudan's turmoil targets Khartoum's Historical Landmarks
Sudan's turmoil is targeting the historical landmarks of Khartoum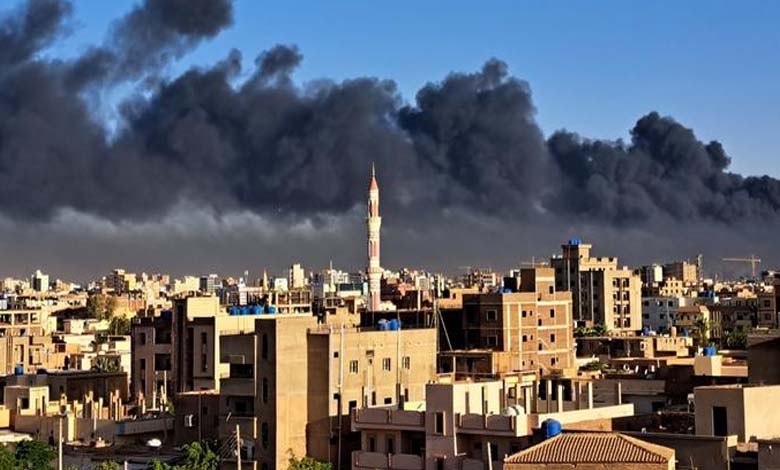 ---
Witnesses reported that flames engulfed the Sudanese capital. and quasi-military forces attacked the army headquarters for the second consecutive day, as fighting has continued for six months. A Khartoum resident, who requested not to be named, said. "There are now clashes around the army headquarters with various types of weapons, erasing the historical landmarks of the capital Khartoum and its cultural identity."
Other witnesses in southern Khartoum reported hearing "massive explosions" when the army targeted bases of the quasi-military Rapid Support Forces with artillery. Eyewitnesses also reported fighting in the city of Al-Abyad. located about 350 kilometers (approximately 220 miles) to the south. The British newspaper "The Guardian" also mentioned this.
Destruction of Landmarks
Nawal Mohamed, 44 years old. stated that the battles that raged on Saturday and Sunday between the regular army. and quasi-military forces were the fiercest since the war began. Her family lives at least three kilometers away from the nearest clashes. but Mohamed said that doors and windows shook from the force of the explosions. while many buildings in central Khartoum were on fire.
The newspaper confirmed that on social media. users shared videos of flames devouring landmarks on Khartoum's horizon. including the Ministry of Justice and the tower of the Great Nile Petroleum Company. a cone-shaped building with glass facades that has become a symbol of the revolution. Other posts showed burning buildings with shattered windows. and walls charred or riddled with bullet holes.
Badr al-Din Babikir. an east Khartoum resident, said. "It is sad to see these institutions destroyed in this manner." Since the war began on April 15 between the army's chief. Abdel Fattah al-Burhan, and his former deputy. Rapid Support Forces commander Mohamed Hamdan Dagalo, about 7,500 people have been killed. according to a cautious estimate by the Armed Conflict Location & Event Data Project.
Civilians and relief workers have warned that. the actual number is much higher because many of the wounded or dead have not reached hospitals or morgues.
Ignoring Humanitarian Law
A group of volunteer lawyers supporting democracy said that .the fighting in Khartoum since Friday has led to the deaths of dozens .of civilians in "continuing disregard for international humanitarian law."
The group stated in a release: "We are working to determine .the number of civilian casualties due to indiscriminate bombings."
The newspaper confirmed that the war in Sudan has already severely damaged the fragile infrastructure. closed 80% of the country's hospitals. and plunged millions of people into severe famine. Over 5 million people have been displaced. including 2.8 million who have fled continuous airstrikes and street fighting in the overcrowded neighborhoods of Khartoum.
Millions of others who could not or refused to leave Khartoum are trapped in the city. where water, food, and electricity are rationed.
Violence has also spread to the western Darfur region. where ethnically motivated attacks by Arab militias have prompted the International Criminal Court .to reconsider investigations into potential war crimes.
Fighting has also erupted in the South Kordofan region. where witnesses have again reported artillery exchanges between the army and the Rapid Support Forces in Al-Abyad.