United States
From election to impeachment: McCarthy's rocky path in America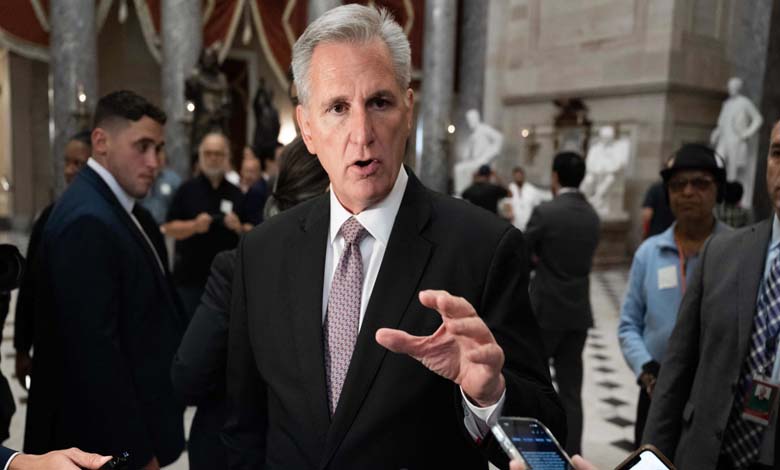 It seems that Kevin McCarthy's crisis in the U.S. House of Representatives did not begin recently but dates back to the beginning of this year when his ascent to the presidency was challenging and stumbling, requiring 15 rounds of voting, an unprecedented event in American political history for 160 years.
McCarthy managed to reach the presidency of the House with great difficulty, as a group of right-wing Republicans in the party thwarted his election attempts, putting the U.S. government in a difficult position that it had not experienced since the pre-Civil War era.
A group of 20 extremist Republican deputies refused to give McCarthy the necessary 218 votes to win the position.
After tough negotiations, the group supporting former President Donald Trump eventually relented, and McCarthy became the president.
Historical Precedent
On Wednesday, the House voted to impeach McCarthy, in a historic move for the United States that reflects the divisions plaguing the Republican Party.
Leading the Republican rebellion against McCarthy was Matt Gaetz, a controversial Congressman from Florida, who decided to take this step after the Speaker of the House made a deal with Democrats to avoid a government shutdown over the weekend.
Avoiding Government Shutdown
The U.S. Congress passed a temporary funding bill on Saturday with overwhelming support from Democrats after Republican House Speaker Kevin McCarthy abandoned an earlier demand from party hardliners to pass any legislation with Republican votes only.
The Senate, with its Democratic majority, voted 88-9 to pass the measure, averting the fourth partial federal government shutdown in a decade and sending it to President Joe Biden, who signed it into law.
McCarthy earlier abandoned the hardline Republican demand that any legislation be passed only with Republican votes, a change that could prompt an extremist right-wing party member to try to oust him from his leadership role.
The House approved government funding until November 17 by a vote of 335-91, with more Democrats supporting it compared to Republicans. Law Threatened Ukraine Support
The law sparked widespread controversy over the future of U.S. support for Ukraine, as it led to the exclusion of more military funding from Congress's budget agreement at the last minute.
Currently, lawmakers must consider a separate $24 billion bill for military and humanitarian aid to Ukraine, which President Joe Biden wanted to include in the final budget, while a vote on it may take place early next week.
U.S. officials, including Biden, have expressed confidence that Congress will continue to provide Ukraine with "billions of dollars" in aid to ensure their support against Russia, even as tensions escalate in Washington between Republicans and Democrats.
The White House, along with most Democrats and many Republicans in Congress, had pushed hard for new aid to Ukraine, despite resistance from former President Donald Trump's allies.
However, in the final hours of the government shutdown negotiations, Republican House Speaker (before his impeachment), Kevin McCarthy, took Ukraine off the table, yielding to pressure from his conservative critics, leaving the White House and many Kyiv supporters in Washington with no choice but to accept."